KERA-TV's history of Bishop College is well-meaning, unexceptional
02/16/09 10:16 AM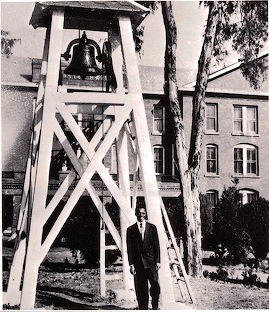 Original Bishop College Bell Tower, with first graduate David Abner, Jr., and activist student Mattie Mae Etta Johnson, who died in a train wreck shortly after participating in the 1960 lunch counter sit-ins in Marshall, TX. The school's women's dormitory later was named in her honor. Bell Tower photo courtesy of Bishop College Alumni Association
By ED BARK
Well-intended but not particularly well-endowed, Dallas-based KERA-TV's (Ch. 13) latest local production looks as though it had the same funding problems as its subject.
Bishop College: A Bridge Between the Worlds
, premiering Monday, Feb. 16th (
8 p.m. central
), documents the 107-year history of the now defunct African-American institution without breathing much life into it. Instead, the 45-minute film seems to be doing the best it can with limited resources, ping-ponging between archival images and interviews with proud alumni.
It's all instructive to a point, but never riveting.
Bridge Between the Worlds
gets few if any style points.
Bishop College dated to 1881, when it was founded in segregated Marshall, TX. The school eventually relocated to Dallas in 1961, where for a time it attracted both more students and federal aid money. In the 1970s, annual enrollment neared 2,000, the film says. Many of the school's graduates went on to become teachers or ministers. Pro football Hall of Famer Emmitt Thomas, who was inducted last year, also is a Bishop College alumnus.
The school closed in 1988 after losing its accreditation during a financial scandal in which several school officials were convicted of improperly using federal funds. Bishop College also was stripped of its eligibility to receive funding from prominent charitable organizations.
"Tons and tons of money were coming in, says former
Dallas Morning News
reporter/columnist Norma Wade Adams of efforts to raise money from the community. "But in the final analysis, it did not prevail."
Directed and edited by Rick Thompson,
Bridge Between Two Worlds
also looks at the school's formative years in racially segregated Marshall. A telling sign from those times, courtesy of the Lonestar Restaurant Association, read "No Dogs, Negroes, Mexicans."
A number of students who participated in sit-down strikes were arrested, but an appeals court eventually overturned all convictions. The film also briefly notes that the Rev. Martin Luther King Jr. gave the 1959 commencement speech to Bishop graduates.
KERA and Thompson should be applauded for caring enough to bring some of Bishop College's history and legacy to light. But at best this is a workmanlike, connect-the-dots film. In the final analysis, it does not prevail.
GRADE:
C+