Henderson still at Fox4 -- for now
06/10/08 12:22 PM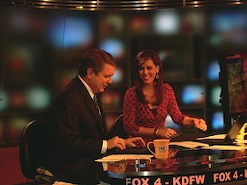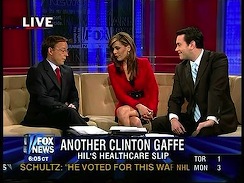 Megan Henderson: on Fox4 and in April stint on Fox & Friends
By ED BARK
Good Day
co-anchor Megan Henderson has another weekend
Fox & Friends
stint behind her, but is still non-commital about any possible future with Fox News Channel.
"I had a great time filling in," she said of her June 7-8 guest host appearances on the Manhattan-based waker-upper. "It's a very friendly and comfortable place and I really enjoyed the opportunity."
There's otherwise "nothing new to report," said Henderson, who reportedly is being wooed by the network and met with FNC executives during her
second trip to Fox & Friends in two months.

Henderson has co-anchored Fox4's
Good Day
with Tim Ryan since August 2003. The show ran in a statistical dead heat with WFAA8 in the May "sweeps" total homes Nielsens, with just three-hundredths of a rating point (730 homes) separating the two stations. But Fox4 dipped to a second-place tie with NBC5 in the key 25-to-54 demographic after winning that competition in the February sweeps.