07/25/11 05:22 PM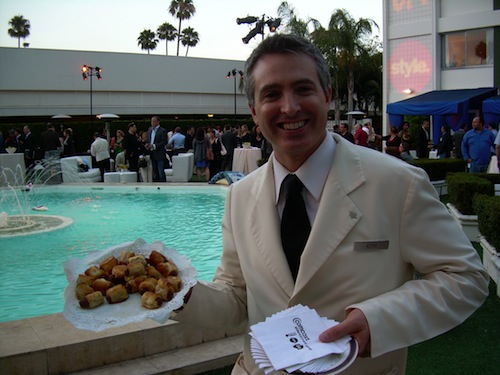 Hello, Mr. Uncle Barky. May I offer you a poolside pig in a blanket?
Forgive your friendly content provider, but it's time to head West again for the annual Television Critics Association summer "press tour," in which networks high and low trot out their new fall lines.
Alas, I've been keeping count. And this will be my 32nd such trip; the first one was taken via covered wagon.
So there'll be no posting on unclebarky.com from Tuesday, July 26th through Tuesday, Aug. 9th. But you can still keep up with all the goings-on at the Beverly Hilton Hotel and other environs
via locatetv.com
, for whom I'll be writing exclusively.
I'm also on
Twitter (unclebarkycom)
, where the brief teases of coming attractions will also be replicated on Facebook. And if anything big happens back in D-FW, I'll try to tweet that as well.
Thanks for your continued patronage, and I hope you'll follow all the press tour developments on locatetv.com.
Ed Bark
P.S. I've left some stuff behind on unclebarky.com, including the recently posted tome on
WFAA8's latter day championing of Rentrak
as a possibly better way to measure local newscast ratings than Nielsen Media Research. So please feel free to browse and keep the traffic running.