10/02/09 05:54 AM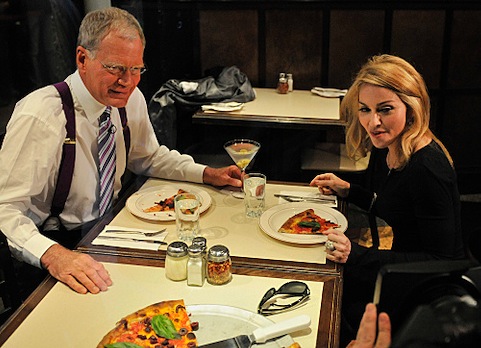 On the night before his confession, David Letterman shared pizza with Madonna on his No. 1-rated CBS' Late Show. CBS photo
By ED BARK
Well, it's always something -- but this is really something.
In one of the more bizarre 10 minutes of television in the medium's history, David Letterman outlined a $2 million extortion attempt on Thursday's CBS
Late Show
before finally telling viewers, "The creepy stuff was that I have had sex with women who worked on this show."
His studio audience alternately laughed and applauded throughout, giving Letterman pause just once.
"Well, now why is that funny?" he asked good-naturedly after the audience laughed at his assertion that "I felt menaced by this. And I had to tell them (a grand jury Thursday morning) all of the creepy things that I had done."
Robert J. "Joe" Halderman, an employee of CBS'
48 Hours
program with whom Letterman met three times, was arrested Thursday afternoon and charged with attempted grand larceny in the third degree, the network subsequently said in statements. In cooperation with authorities in what amounted to a sting operation, Letterman first had written a "phony" $2 million check to keep the "creepy stuff" quiet. The alleged extortioner had threatened to write both a screenplay and a book, Letterman said.
Letterman, 62, and Regina Lasko, with whom he began a relationship in 1986, were married in March. That surprising news also was first revealed on
Late Show
. They have a son, Harry, who will be six on November 3.
In outlining the events that led to the arrest, Letterman made no mention of when he had his dalliances with
Late Show
staffers. But he acknowledged that the extortioner has proof that they occurred. It was contained in a package that Letterman found in his car "three weeks ago yesterday," he said on Thursday's
Late Show
.
"It's been a very bizarre experience," Letterman said. "I feel like I need to protect these people. I need to certainly protect my family. I hope to protect myself, hope to protect my job."
Letterman's initial revelation of the "creepy stuff" involving staffers was met with silence from the studio audience. But he then drew applause after reiterating, "Now, my response to that is, 'Yes, I have. I have had sex with women who work on this show.' "
"Would it be embarrassing if it were made public?" Letterman added. "Perhaps it would -- especially for the women." The audience laughed and applauded.
"I don't plan to say much more on this particular topic," Letterman concluded before noting that Woody Harrelson would be his first guest after a commercial break.
Letterman's latest imbroglio -- he's also had spats with John McCain and Sarah Palin in the past year -- comes in times when
Late Show
is on a
triumphant ratings roll
versus NBC's
Tonight Show with Conan O'Brien
.
As word of mouth spreads, his ratings likely will go up even further in the short term. But the joking manner in which he disclosed his sexual relationships with staffers might not play favorably with some women viewers, even though Letterman said that at base level, "I am just a towering mass of Lutheran Midwestern guilt."
Here's a
link to Letterman's remarks
Thursday night. The best available video early Friday morning is out of sync with the audio. But the audio is crystal clear.