02/20/12 12:45 PM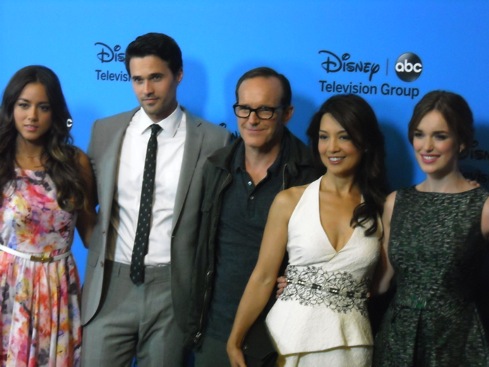 The stars of S.H.I.E.L.D. at summer TV "press tour." Photo: Ed Bark
Premiering:
Tuesday, Sept. 24th at 7 p.m. (central) on ABC
Starring:
Clark Gregg, Ming-Na Wen, Brett Dalton, Chloe Bennet, Iain De Caestecker, Elizabeth Henstridge
Produced by:
Joss Whedon, Jed Whedon, Maurissa Tancharoen, Jeph Loeb, Jeffrey Bell
By ED BARK
@unclebarkycom on Twitter
Fearing piracy and/or acting stupidly, ABC is being super-protective of its otherwise heavily promoted super hero series.
Marvel's Agents of S.H.I.E.L.D.
is the only new fall show unavailable for review either via a DVD sent in the mail or on a network's password-protected media site. Although there likely are some exceptions being made for "major media outlets."
The premiere episode was screened, however, during ABC's early August day at the summer Television Critics Association "press tour." So I've seen it, but didn't take notes because it was assumed that
S.H.I.E.L.D.
would then be made available for another look. A majority of TV writers re-screen new shows as close to their air dates as possible while also taking detailed notes. That way memories are fresh and details are documented. But in this case we'll have to wing it.
Memory serves that
S.H.I.E.L.D.
(Strategic Homeland Intervention Enforcement and Logistics Division) is a talkie presented in living color. It's handsomely produced, sprinkled with some impressive special effects and has an ample amount of light, quippy banter because that's a set-in-stone trademark of executive producer Joss Whedon (
Buddy the Vampire Slayer, Dr. Horrible's Sing-Along Blog
). He also directed
The Avengers
feature film from which
S.H.I.E.L.D.
is drawn.
Those who saw
The Avengers
will recall that Agent Phil Coulson (Clark Gregg) emphatically died near the end of it. But nobody really dies anymore on television or in the movies. And certainly not in a comic book series in which the right vortex at the right time, coupled with a dose of uranium geranium oxide and a little bit of luck and pluck can cause just about anything to happen.
So in other words, Gregg is back as the team leader after a rather cursory explanation of how that's possible.
Whedon is no mere TV producer anymore, and he's already signed to direct
The Avengers: Age of Ultron
. So
S.H.I.E.L.D.
ostensibly will be left mostly in the capable hands of his disciples, who are more than up to the challenge. That's what they all say. And Whedon said it this way during ABC's press tour interview session: "I got the best writers I know to do this and actors who can do pretty much anything so that I could do less. That's always the way to run a show."
S.H.I.E.L.D
otherwise will run head-long into competition from CBS' season premiere of
NCIS
and its own buzzy storyline. The show will be dealing with the departure of special agent Ziva David, played by Cote de Pablo since 2005. CBS says it wanted to keep her, but de Pablo decided to leave the hit series after rejecting a salary boost. She has yet to tell her side of the story, but her exit storyline virtually assures that
NCIS
will blast
S.H.I.E.L.D
in Tuesday's total viewer Nielsen ratings and possibly even prevail among advertiser-prized 18-to-49-year-olds.
The ABC newcomer picks up after the Battle of New York, with Coulson's recruits called on to track and subdue the nefarious Rising Tide, of which little is known. They're also charged with investigating people who appear to have "extra-normal" powers. After all, one wouldn't want a superhuman Hostess Twinkie eater to consume the entire world's supply. Oh but we kid the dedicated agents of S.H.I.E.L.D.
Coulson's right hand man, or so he thinks, is Agent Grant Ward (Brett Dalton), a whiz in combat and espionage. Agent Melinda May's (Ming-Na Wen) expertise is martial arts and she also knows how to fly a plane. Agent Leo Fitz (Iain De Caestecker) is a topflight engineer while Agent Jemma Simmons (Elizabeth Henstridge) specializes in bio-chemistry. The obligatory crack computer hacker is named Skye (Chloe Bennet).
Tuesday's opener isn't always perfectly clear about what's going on. But it's spirited and crisply paced with a big-screen look and feel. The challenge will be to keep the momentum going while ensuring that
S.H.I.E.L.D.
doesn't deteriorate into an inferior-looking knockoff. All it sometimes takes, after all, is one dedicated Twitter troll or "fanzine" website to declare, "
S.H.I.E.L.D.
S.U.C.K.S.!!!" Then the snowball starts rolling.
Gregg's resurrected Coulson so far is the much-needed glue, lending a familiar presence and sturdy countenance. His closing scene, in a bright red convertible that's more than it seems, brings the first hour to a rousing end. Still, there's that
NCIS
team with which to contend. They're the real enemies of Coulson's forces. And although lacking in any super-duper powers, they sure know how to draw and keep an audience.
GRADE:
B
Email comments or questions to:
unclebarky@verizon.net