06/28/09 09:18 PM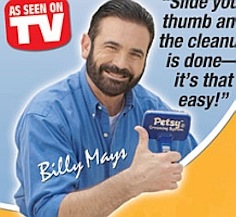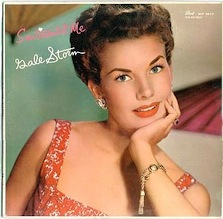 Pitchman Billy Mays and Texas-born actress/singer Gale Storm
By ED BARK
Willie Mays lives on, but Billy Mays has yelled out his last infomercial.
The seemingly omnipresent TV purveyor of Mighty Putty, Oxiclean, Orange Glow, Zorbeez, the Awesome Auger, the Hercules Hook and numerous other products died at age 50 in his sleep after returning to his Odessa, Fla. home Saturday. Mays also co-starred in the Discovery Channel series
Pitchmen
.
His flight from Philadelphia, where he taped what turned out to be his last infomercial, had a rough landing earlier the same day. The US Airways jet reportedly blew two tires upon making an emergency landing, with Mays later telling a TV reporter that he had been hit on the head by baggage that fell from overhead storage units.
"But I got a hard head," he joked before heading home. The cause of Mays' death is still undetermined. He also was scheduled to have hip replacement surgery on Monday (June 29th).
In the CNBC special
As Seen on TV
, which premiered in April, Mays said he turned down many offers for his services. "There's lots of pressure put on me when people believe that I'm the only one that can take their product to the next level," he told interviewer Darren Rovell.
***
Out of the public eye but fondly remembered by earlier generations, actress/singer Gale Storm of McDade, TX also died on Sunday -- at age 87 in a convalescent hospital. As you might have guessed, she wasn't born with the breezy stage name given to her upon landing in Hollywood. Instead her childhood friends knew her as Josephine Cottle.
After appearing in a long string of B-movies, Storm finally made a name for herself in the vintage TV sitcom
My Little Margie
, which ran from 1952-'55 on CBS and NBC. She then fronted
The Gale Storm Show
(which became
Oh! Susanna
in syndication) from 1956-'60. It also aired on two networks, CBS and ABC.
Storm made just three guest star appearances on scripted TV shows after
The Gale Storm Show
was canceled, the last as Maisie Mayberry on a 1989 episode of
Murder, She Wrote
, according to a list of her credits on
imdb.com
. She instead devoted most of her energies to a singing career. While starring in her TV shows she had three pop hits, with a
cover of "I Hear You Knocking"
reaching No. 2 on the Billboard charts.