12/16/07 08:43 PM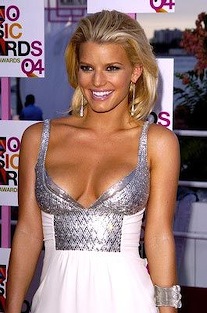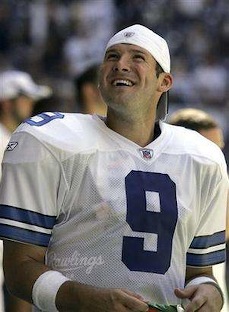 By ED BARK
Mamas, don't let your Cowboys grow up to date bimbos.
OK, maybe a supposedly sore throwing thumb had more to do with Tony Romo's lousy play against the Eagles Sunday. But that doesn't make for much of a story, as Fox well knows.
The network wasn't shy about showing Jessica Simpson in a pink No. 9 jersey during the Cowboy's play-dead 10-6 loss to Philadelphia. Romo's latest trinket sat in a VIP box at Texas Stadium, where he entertained her with three interceptions and just 13 completed passes in 36 attempts. His quarterback rating for the game -- 22.2 -- was his lowest ever.
"Proving it's never easy to play in front of your girlfriend," announcer Joe Buck noted moments after Romo completed his second pass to the Eagles near the end of the first half.
Buck also wondered whether Romo would have had "a shot" at Simpson during his not-so-long ago days as an obscure Cowboys backup. His booth buddy, Troy Aikman, agreed that it's much easier to score off-field when you're throwing touchdown passes for America's Team.
Aikman mostly didn't play that game during his Hall of Fame career. He dated country singer Lorrie Morgan for a time, but that was about it. Romo already has dallied with Carrie Underwood, Britney Spears and now Simpson in this season alone.
Fox, for its part, trained its cameras on Simpson six different times during the game. Already the network of
The Simpsons
, it also treated viewers to a second-half excerpt from Jessica's single
"B.O.Y."
Meanwhile, her boy continued to struggle.
Fox's post-game
OT
chipped in by replaying two of the Simpson sightings, including the one in which she enthusiastically flaunted her No. 9 in happier times.
The Cowboys' upset loss knocked the team back into a tie with the Green Bay Packers in the battle for guaranteed home field advantage throughout the playoffs. Dallas still has the tiebreaker after beating the Pack, but the Cowboys now have the curse of Jessica Simpson.
Tony the Tiger had better shed her fast and get back to basics. Make every pass count -- but only on the field.