01/21/08 08:47 AM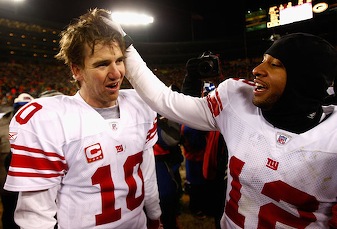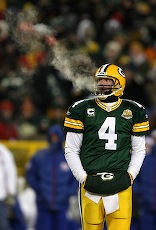 By ED BARK
Your friendly neighborhood Wisconsinite (and Dallas resident since 1979) isn't too cheery on this suitably overcast Monday morning.
No excuses, though. The incredibly resilient New York Giants deserved to win. And in the end, little bro' Eli Manning proved to be more than a match for fabled Green Bay Packers QB Brett Favre.
Whatever side you're on, this was the best prime-time drama of the season. Spine-tingling, bone-chilling. And all gloriously captured by Fox, whose crew also had to battle the elements to bring you a tense gut fight between two storied teams who hadn't met in the post-season since 1962.
Pre-game, halftime and post-game ringmaster Curt Menefee, formerly of KTVT-TV (Channel 11) and "The Ticket" (1310 AM), wisely credited Fox's off-camera troops before signing off Sunday. Imagine the fun of wiring Lambeau Field for sound and pictures in Arctic temps that plunged to minus 1 degree at kickoff with an accompanying 23 below zero wind chill.
"Ice Bowl II," in which only analyst Terry Bradshaw picked New York, ended as an amazingly offensive game with more total points scored than in New York's equally stunning upset of the Cowboys. Down went Dallas, 21-17. Down goes Green Bay, 23-20 in sudden death OT.
For solace and penance, I'll dunk my head in a tub of Leinenkugel beer, re-emerge to imbibe a four-pack of Brats and then choke down a few cheese curds. No blame games, though. It was a helluva season. And in the end, hell froze over at Lambeau Field. The Giants won, and it's over and done.