Oh shaddup: But Chris Matthews' credibility yap keeps growing
01/08/08 10:28 PM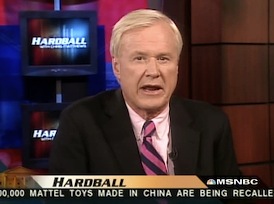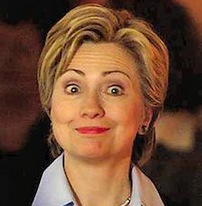 By ED BARK
Whatever you think of Hillary Clinton, it was heartening to see her have the last hee-haw Tuesday night at the expense of the braying jackass of American politics.
That would be MSNBC's Chris Matthews, who had chided, vilified, ridiculed and all but written off both Clintons while anointing Barack Obama as literally "the Lawrence of Arabia" of campaign 2008.
Then it all crumbled when Hillary at least briefly calcified Matthews with her so-called "upset" win over Obama in the New Hampshire primary.
Countless other pundits and pollsters had it all wrong, too. But no one is more smugly and infuriatingly self-important in his pronouncements of who's hot and who's not. Not that he's on target all that often. But the bellicose clang of his own name-dropping voice keeps pleasing the only person that matters -- him.
Even Matthews feigned being a bit chastened Tuesday night, acknowledging at one point, "If she wins tonight, she's got a leg up on the predictors, the pundits and people like me."
But he then quickly wondered whether Hillary's teary-eyed response at a New Hampshire Q&A on Monday prompted an eleventh hour, gender-influenced pity vote for the lone woman candidate in either party's field.
"At what point does tough combat give way to sympathy?" he mused.
Later Tuesday night, as Hillary remained ahead, MSNBC contributor Rachel Maddow said in all seriousness that some people are "blaming Chris Matthews" for her late-inning rally. And why not? The guy's getting easier to loathe than Bill O'Reilly, who had his own self-publicized dustup in New Hampshire with a tallish Obama aide who seemed to go out of his way to block a Fox News Channel cameraman from videoing the candidate.
Matthews countered-punched with a
grandiose campaign trail moment
during Hillary's media Q&A in Nashua. He didn't like her answer after he asked for the "essential difference between the two of you (also meaning Obama) in how fast we're gettin' out of Iraq."
"I believe I will get our troops out as quickly and responsibly as is possible," she said.
"And he won't be responsible?" Matthews jabbed back. It deteriorated from there, with Hillary finally telling Matthews, "I don't know what to do with men who are obsessed with me. Honestly, I've never understood it."
The clip was replayed multiple times on MSNBC, of course, with Matthews demanding during one re-airing, "You've gotta show the best part of it."
The "best part" was video of Hillary walking over to him and playfully saying, "Oh Christopher, baby" while he pinched her on the cheek and she semi-embraced him. "It's not obsession," he told her as she quickly pivoted away from her Judas.
Media blowhards -- a k a Matthews -- eat this stuff up because it makes them seem larger than life if not bigger than the campaign itself. Visualize him as a big cartoonish balloon floating high above the Macy's Thanksgiving Day Parade.
Thankfully there are still voices of reason, even if the semi-retired Tom Brokaw is now only a part-time player during MSNBC's gabby election night marathons.
"You know what we're going to have to do? Wait for the voters to make their choices," he said after yet another discussion of how wrong the polls had been.
"What do
we
do then?" Matthews wondered.
Stop trying to "stampede the process," Brokaw said, making it a point to include the media at large in this criticism. "Let this process go forward in the way it should."
Yeah, like that's gonna happen. Even Brokaw joined the crowd in making way too much fun of Republican victor John McCain's less than electric victory speech. It won't matter a whit to the electorate, but that's a secondary consideration, of course.
Matthews did make one solemn vow after interviewing Clinton campaign manager Howard Wolfson minutes after Hillary's triumphant address to supporters.
"I will never underestimate Hillary Clinton again," he told him.
He'll never stop yapping, though, or calling attention to himself. At 12:09 a.m. (central) Wednesday, Matthews ordered up yet another replay of his pinch-and-hug with Hillary.
She still has ample time to kick him in the nuts during a subsequent higher-stakes primary. He'd love that.