09/27/08 12:15 PM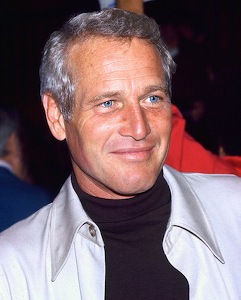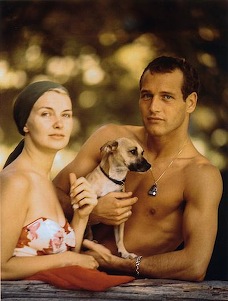 Paul Newman: A dreamboat who kept his eyes on his prize.
By ED BARK
Paul Newman's death didn't hit with the sudden, shocking impact of Tim Russert's. But man, it hurts no less.
Battling cancer without ever making a public show of it, Newman went down on Friday night after 83 years of fame, fortune and fortitude. He's survived by his wife of 50 years -- Joanne Woodward. That's still a Hollywood ending for the ages.
Newman's television credits of course aren't the stuff of legend. But as with many actors of his vintage -- including Robert Redford and Robert Duvall -- he used the small screen as a valuable training ground. His last hurrah as an actor then returned him to the medium that long ago had put him in the starting blocks.
Could it be true that Newman once played Plato and Nathan Hale in two episodes of CBS'
You are There
, a history-in-the-making series hosted by Walter Cronkite? Yeah, that was in 1953.
Does anyone remember Newman as crusty, bearded, profane Max Roby in HBO's multi-part
Empire Falls
? Yeah, that was in 2005, and Newman won his one and only Emmy for what's now his final bow.
No one knew his name when he piled up all those apprentice guest roles in weekly "Golden Age" anthology hours affixed with their sponsors' names.
Playhouse 90. Armstrong Circle Theatre. The Philco Television Playhouse. Goodyear Television Playhouse. The Kaiser Aluminum Hour
.
Another of those artifacts,
The United States Steel Hour
, gave Newman a chance to shine in 1956 as star pitcher Henry Wiggen in
Bang the Drum Slowly
. Another relative nobody, Albert Salmi, played Wiggen's best friend, ponderous, spare part catcher Bruce Pearson.
Seventeen years later, few knew of Robert DeNiro until he made a big impression as Pearson in an acclaimed feature film version of
Bang the Drum Slowly
. By that time, Newman already had
The Hustler, Cool Hand Luke
and
Butch Cassidy and the Sundance Kid
in the bag. Television, long out of the picture, had served as his junior high school. You graduate and move on.
Two less musty TV footnotes also come to mind. Off-camera in 1980, Newman directed his wife in ABC's
The Shadow Box
, a challenging and less than cheery drama that also featured Christopher Plummer and Valerie Harper. The network kissed it off -- at least from a scheduling standpoint. The film aired in the week between Christmas and New Year's. Virtually no one watched it.
Newman made a stronger impression -- even though it lasted just a few seconds -- as an unbilled irritant on the Aug. 30, 1993 launch of CBS'
Late Show with David Letterman
.
Where are the "damn cats?" he bellowed at the host. Letterman then told him that
Cats
was playing down the street, prompting Newman to storm out indignantly in the guise of an irate out-of-towner.
It underscores what he once said of those latter day star turns on grocery story shelves.
"Once you see your face on a bottle of salad dressing," he said, "it's hard to take yourself seriously."
All proceeds from "Newman's Own" products go to charitable organizations. There's no better time to buy.