09/27/06 07:56 PM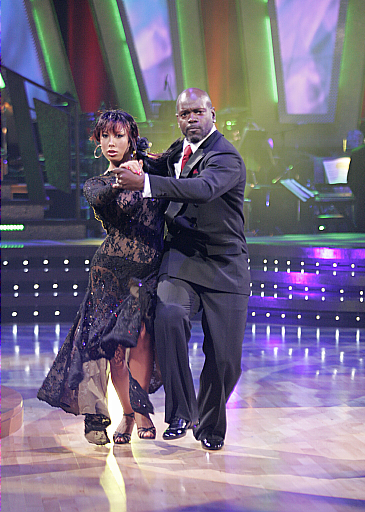 Game face: A too-serious Emmitt keeps his sole mate.
By ED BARK
Terrell Owens by day, Emmitt Smith by night. Change partners and dance with the one who brung ya to three victorious Super Bowls.
Stuck with the previous night's lowest score, Emmitt and partner Cheryl Burke seemingly teetered near the brink of elimination on Wednesday's
Dancing with the Stars
. But combined scores from judges and viewers instead sent a crestfallen Harry Hamlin home while his pro partner, Ashly DelGrosso, sobbed speechlessly. Boo hoo. Some in the crowd just booed while Hamlin's wife, previous competitor Lisa Rinna, looked suitably stunned by what host Tom Bergeron called "one of the most surprising eliminations ever."
Emmitt had been left dangling with Hamlin and Jerry Springer while six other celebs and their pro players were told they'd be back next week. Then again, Bergeron kept emphasizing that the eventual bottom two -- Hamlin and Springer -- were the only competitors that actually had the lowest overall scores. The other seven pairs were spared in "no particular order," which means Emmitt might have fared much better than appearances suggested. Still, he was made to sweat in the service of "good TV" after skating through the first two rounds.
Emmitt and Cheryl (shown doing the tango Tuesday in the above ABC photo), were roundly panned by the judges Tuesday night.
"You drop an egg...You gotta clean it up," he said in the very padded run-up to the actual verdict. Wonder what Emmitt thought of The Scissor Sisters' male lead singer, who wore an outfit that made him look like The Riddler channeling David Bowie. The show accommodated two performances by the group, plus a bunch of other unnecessary stuff.
Much, much later, or so it seemed, co-host Samantha Harris asked Emmitt, "Were you robbed?" with a measly 19 score for what in fact was an off-putting tango.
"At gunpoint," he said, smiling.
Now he'll have another chance to swing and sway the judges, although his rhetoric is still a bit robotic.
"I want my dancing experience in this competition to be just like my football career," he said -- again. "I'm going to compete to win."
Relax, guy. Try to be a more urbane Cowboy.