Dancing with the Stars: Emmitt Watch
09/19/06 09:06 PM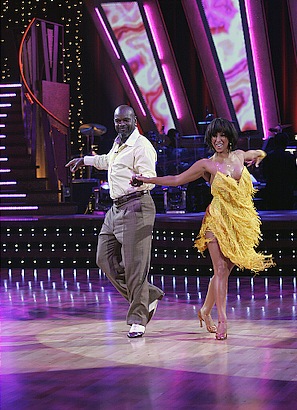 By ED BARK
He's in a zone. Emmitt Smith gamely juked his way to another solid 24 score on Tuesday's
Dancing with the Stars
, which there's a MAN LAW against watching.
So I watched it in a dress, heavy makeup and high heels. In that guise, the ex-Dallas Cowboys hero looked like a brawny lad, even though judge Carrie Ann Inaba dubbed him "Twinkletoes" after first asking permission. Emmitt and partner Cheryl Burke (shown above on last week's show) danced the required Quick-Step to the tune of KT Tunstall's "Black House and the Cherry Tree." He wore a black tux and white bow tie, keeping his back rigidly and unnaturally vertical after lowering his shoulders all those years as the NFL's all-time leading ground-gainer. Judging from his expressions, he genuinely enjoyed himself.
Judge Len Goodman pronounced it good enough for government work.
"I don't think this was quite as good as your cha cha last week," he said. "But it was still a great performance. Well done."
The 24 score put Emmitt and Cheryl in a third-place tie for the night with Vivica A. Fox and pro instructor Nick Kosovich. The leader board is topped by -- Whoa! -- former kid star Joey Lawrence, who nailed a near-perfect 29 with partner Edyta Sliwinska. In second are
High School Musical
star Moniquue Coleman and Louis van Amstel. By the way, I need an Amstel Light.
Emmitt noted that "everyone has brought their A-game here tonight," although the comedy stylings of Jerry Springer and semi-injured partner Kym Johnson were strictly from a B-movie. Jerry has a Springer in his step, but not much of a spring. He's last with 19 points, but should be kept around a while for laughs. During their routine together, Kym feigned kicking him in the nuts, which you can say on the Internet. He then ended the dance with a fake collapse.
I'd vote out stiff Harry Hamlin, although cocksure C-list rocker Willa Ford ("I'm tough, I'm dirty, I'm raw") is getting more than a bit wearisome. Meanwhile, last week's opening night top dogs, Mario Lopez and Katrina Smirnoff, irked judges with their free-form, throw-out-the-book version of the Two-Step.
"This was the Quick Step gone berserk. Stop booing me. Shaddup!" brayed judge Bruno Tonioli.
(Uncle Barky insider note: I've been to a live
Dancing with the Stars
show. The warmup guy encourages the audience to automatically boo any negative comments from judges. So host Tom Bergeron was playing it more than a bit dumb when he said after the night's first dance, "The stars take the criticism better than the audience.")
Wednesday night's results show, in which viewers' and judges' votes are weighted 50-50, will send home another of the show's original couples. Emmitt and Cheryl look good to go to at least the Final Four. The winner gets a ridiculous-looking trophy and perhaps a chance to kiss one of Emmitt's three Super Bowl rings. But if the Cowboys legend goes all the way...well, he should brandish his
Dancing with the Stars
spoils at his future Hall of Fame induction ceremony.