06/14/12 12:08 PM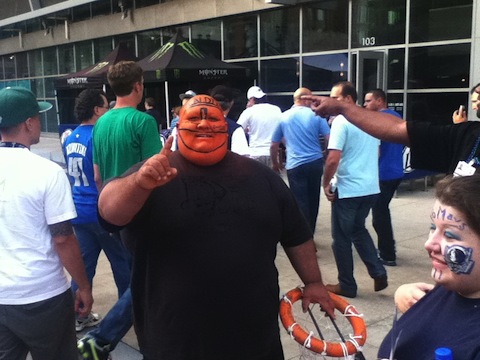 An alternate universe version of Mavs Man made the pre-game festivities more festive before Mavs-Thunder rolled. Photo: Ed Bark
By ED BARK
ESPN pretty much had the only game in town Tuesday night -- namely the Dallas Mavericks' opening game Western Conference Finals home win against the Oklahoma City Thunder.
Led by Dirk Nowitzki's 48 points and record-setting 24-out-of-24 free throws, Mavs-Thunder soared past the three-quarter million mark in averaging 803,381 D-FW viewers.
A peak crowd of 1,018,078 watched the final 15-minute increment of the game, which stretched to 10:53 p.m. thanks to referee Joey Crawford's penchant for whistle-blowing and in a sense, tooting his own horn. But it's hard to complain when Nowitzki goes to the foul line more often than Lady Gaga changes her look.
Mavs-Thunder also harvested a bumper crop of advertiser-craved 18-to-49-year-olds, with an overall average of 450,812 viewers in this key age range. Over on Fox Sports Southwest, the struggling, injury-riddled Texas Rangers barely came up for air during their road loss to the White Sox, averaging just 76,183 total viewers with 32,906 within the 18-to-49 motherlode.
The broadcast arena still did some good business Tuesday night, with CBS'
NCIS
getting its episode safely out of the way before the Mavericks tipped off at 8:09 p.m.
NCIS
drew Tuesday's biggest non-sports audience, averaging 415,542 total viewers. CBS also rode to time slot wins -- against ABC, Fox and NBC programming -- with
NCIS: Los Angeles
(353,211 viewers) and the season finale of
The Good Wife
(283,954 viewers).
ABC's
Dancing with the Stars
results show slumped to second place at 8 p.m., coming up short of
NCIS: L.A.
with 325,508 viewers.
NBC's 9 p.m. hour of its late season hot commodity,
The Voice
, likewise stumbled a bit by running third in total viewers behind both
Good Wife
and ABC's
Body of Proof
. But
Voice
again won its time slot among 18-to-49-year-olds, even though many of them by that time had abdicated to the Mavs-Thunder game.
Dancing
took the 8 p.m. hour in the 18-to-49 demographic, narrowly outdrawing the second hour of NBC's
The Biggest Loser
.
The 10 p.m. local newscast ratings were depressed -- and station managers might have been, too -- by competition from the closing stages of the Mavs game. It's the heart of the May "sweeps" after all, and you'd like viewers to sit up and take a little more notice of all those extra-special reports.
Nevertheless, WFAA had narrow wins in both total viewers and 25-to-54-year-olds, the main advertiser target audience for news programming on most stations. With six weekdays to go in the sweeps, both 10 p.m. races are still
way too close to call
.
Fox4 has no such worries at 6 a.m. It again rang up twin wins and is now cruising toward comfy sweeps victories in both measurements, particularly among 25-to-54-year-olds.
WFAA8 and CBS11 tied for first place in total viewers at 6 p.m., with WFAA8 alone atop the 5 p.m. Nielsens. But Fox4 again logged big wins at both early evening hours in the 25-to-54 demographic. It has those sweeps wins locked up, too, making Fox4 the market's demographic darlin' everywhere except at 10 p.m.