Emmitt watch: "Twinkletoes" stubs 'em
09/26/06 08:39 PM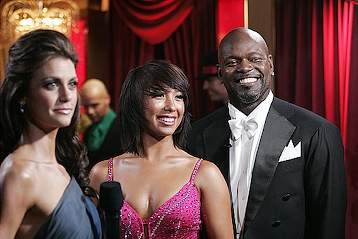 All smiles last week, will Emmitt now face the music?
ABC photo
By ED BARK
Held to no gain and then piled on, Emmitt "Twinkletoes" Smith fell to the ground floor on Tuesday night's third episode of ABC's
Dancing with the Stars
His stiff, stern, Frankenstein's monster rendition of the Tango had the show's judges in a tizzy, or whatever they get in.
"The tango did to you what no linebacker could, stopped you in your tracks," opined Judge Len Goodman.
How bad was it? Even Jerry Springer was judged Emmitt's superior. A measly score of 19 for Emmitt and partner Cheryl Burke put them in last place for the night. They had been among the hit show's top scorers in the previous two weeks.
"Emmitt, the rock is starting to crumble tonight...You didn't shine as you usually do," said judge Bruno Tonioli.
They danced to "Simply Irresistible," but simply weren't. Emmitt tried to flash some fire in his eyes while doing the tango, but instead came off as kinda menacing. The grinning, good time hoofer of previous shows looked like Robocop this time out.
Emmitt said he was a bit pooped from traveling. Besides the weekly commute from Dallas to L.A., he made a pit stop in Virginia, where his wife, Patricia, a former Miss Virginia, was hosting the state's beauty pageant.
"C'mon, Twinkletoes," Patricia said, introducing him to the pageant crowd in an opening taped segment. OK, let's give that one a rest, even if the headline for this dispatch still won't.
"Obviously we have to work harder, and we'll get it done," Emmitt said after the judges gang-tackled him.
Tuesday's top scorers were veteran actress Vivica A. Fox and
High School Musical
star Monique Coleman, each with 27 points. Emmitt's 19 points left him two shy of Springer, who said he wants to go home after learning the waltz next week in time for his daughter's wedding.
Wednesday night's results show will evict the contestant with the lowest combined score from judges and viewers, with each counting 50 percent.
For the first time, there's possible trouble afoot for the former Cowboys star. That's what he gets for having a Springer in his step.