Emmitt "Twinkletoes" Smith: Good to go again
09/20/06 07:45 PM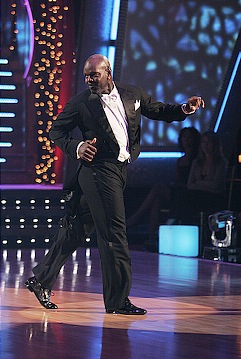 By ED BARK
No sweat. Emmitt Smith and partner Cheryl Burke learned one-third of the way through Wednesday's live
Dancing with the Stars
that they'd be flooring it again next week.
The former Dallas Cowboys great joined country singer Sara Evans and onetime teen heartthrob Joey Lawrence among the top three finishers in combined votes from viewers and the ABC hit's three judges. Emmitt, shown above on Tuesday night's show, now must endure being called "Twinkletoes" by smitten judge Carrie Ann Inaba. She's nowhere near as vacuous as
American Idol's
Paula Abdul, but does seem ready to jump in the sack with ol' No. 22.
"Twinkletoes continues to perform at a level that's pleasing," Emmitt said during pre-taped interviews in
Dancing's
opening minutes.
Voted off was former Miss USA Shanna Moakler, who's also in the throes of a divorce from former Blink 182 member Travis Barker after they co-starred in an MTV reality series last year.
Many of the celebrity dancers otherwise stepped up their games in Week 2 of the whirling, swirling glitz-fest. "I'm going to have to work a little bit harder," Emmitt told
Dancing
co-host Samantha Harris.
"A whole lot," Cheryl corrected him.
Lots of people are watching. Last week's season premiere of
Dancing
drew 20.2 million viewers nationally to rank as prime-time's most-watched show for that week. Tuesday's 2-hr. performance edition dipped a bit to 18.2 million against much tougher first-run competition on rival networks. It won the 7 to 9 p.m. slot in total viewers, but was beaten by Fox's
House
in the first hour among advertiser-coveted 18-to-49-year-olds.
Next week's required dances are the tango and the jive. Whichever one he draws, "Twinkletoes" has already shown he's got sole.