Stormy tenure over: News director Regent Ducas out at CBS11
08/31/07 06:10 PM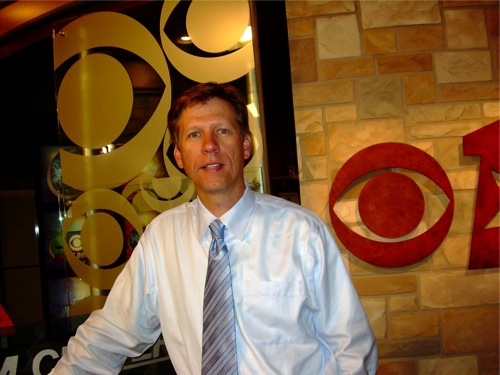 Regent Ducas gave CBS11's newscasts a black eye in the view of many staffers. He was ousted Friday evening. Photo: Ed Bark
By ED BARK
CBS11 news director Regent Ducas' "run 'n' gun" approach is out of ammunition after five contentious months.
Ducas was dropped early Friday evening, with CBS11 president and general manager Steve Mauldin making the announcement to the newsroom. The catch-all cover story: he has left to "pursue other interests."
The station's new news director is Scott Diener, who according to sources, was loudly applauded by staffers. He has been the assistant news director since June 2006.
Mauldin, who hired Ducas, reportedly told the staff that he wants to reboot the newsroom, protect the CBS brand and create an environment where "people are happy to come to work and love their jobs." According to sources, Mauldin also said he wants to return to "complete coverage you can count on."
Ducas, who arrived from Kansas City's CBS' affiliate in late March, emphasized a quick-hit,
"urgent"
crime-ridden approach to the news epitomized by a "First Five Minutes" segment that Mauldin ordered stopped earlier this week.
Later Friday, in a brief phone conversation, Mauldin said he didn't want to comment further beyond an official statement released at 6:30 p.m. by CBS11.
"Regent infused a lot of energy and tempo into our newscasts," Mauldin said in the release. "I wish him well in his new pursuits."
Ratings for CBS11's 10 p.m. newscast did not improve under Ducas' tenure. But the station's reputation for quality news took a nosedive while a number of staffers privately expressed their disgust. One of the station's star reporters, Sarah Dodd, recently left the station, saying she'd had enough.
Diener, a graduate of the University of Missouri School of Journalism, came to CBS11 from KTVK-TV in Phoenix, where he was news director for two years. That station is owned by Dallas-based Belo Corp., which also runs local ABC affiliate WFAA-TV (Channel 8).
Diener "has proven himself to be a solid newsman, a strong leader and a great member of our team," Mauldin said in the CBS11 release. "I'm proud to promote him to this position."