"Chloe" and Rush: K-i-s-s-i-n-g
11/27/06 08:19 PM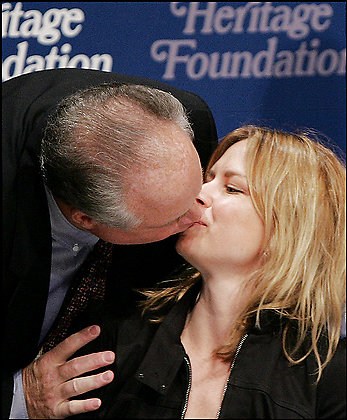 Planting a seed: Rush Limbaugh mostly just lips off. But this time not so much with Mary-Lynn Rajskub of 24. She has an explanation.
Pecks on the cheek or air kisses apparently aren't Rush Limbaugh's style. Instead he went whole-hog at a recent terrorism panel sponsored by the Heritage Foundation. The guns 'n' butter conservative hit actress Mary-Lynn Rajskub with his best shot in a moment captured by Getty Images. Rajskub, who plays ever-vexed counter-terrorism agent Chloe O'Brian on Fox's
24
, says Limbaugh caught her unprepared.
"He said hello to everyone and kissed me on the lips," Rajskub tells
FHM
magazine. "I was like, 'Oh, that was odd.' Then the picture was on the Internet and people thought I was going out with him."
Not true. Limbaugh was moderating the panel and Rajskub, who only
plays
a counter-terrorism agent, was asked to be on it.
"He's brilliant and hilarious," she said. "But I wouldn't say I wanted to get it on with him."
Ed Bark