Scott Gordon's greatest hits, volume 2: NBC5 reporter has another national scoop
03/05/07 10:43 AM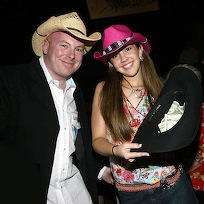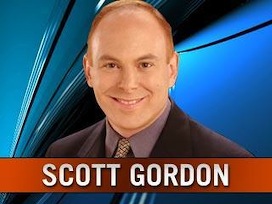 At play and at work: NBC5's Scott Gordon rides again.
By ED BARK
NBC5's Scott Gordon has been on quite a tear lately. On Valentine's Day, the veteran night ranger led the Peacock's 10 p.m. newscast with a live dispatch on the peanut butter recall by Peter Pan and Great Value. NBC's
Today
show ran with it the next morning, using footage from Gordon's report. It became a big national story.
Now Gordon's got another biggie -- video confiscated by Watauga police of two-and-five-year-old pot smokers being taught to inhale by their laughing 17-year-old uncle and an 18-year-old friend. NBC5 anchor Jane McGarry called it "sickening" at the top of Friday's 10 p.m. newscast.
Today
then featured it prominently on Monday's program.
When Gordon asked the since-jailed uncle how he could do such a thing, "he responded with expletives we can't put on TV," Gordon told viewers. He had video of that, too -- expletives deleted.
Via email Monday, Gordon explained how he nailed down another nationwide tongue-wagger.
"I had dealt with the Watauga police chief on previous stories," he said. "And when he told me about the video, I couldn't believe it. When I went to his office to look at it, my mouth dropped. It was one of those videos that is so shocking, I knew right away it would become a national story.
"We first heard about it on Thursday, but the chief wanted to blur the kids' faces before giving the video to us, so it had to wait until Friday. We happened to be at the police station when they brought in the suspect (who cursed him)
"Today I hear from Child Protective Services that the kids are doing well in foster care and that doctors don't expect t hem to have any long-term health damage. Still, it can't be good for kids that age to smoke a cigarette, let alone a marijuana cigar."
In an email exchange last month, Gordon detailed how NBC5 broke the salmonella-laced peanut butter story.
"Through our reporting, we learned directly from ConAgra (makers of the two brands) shortly before news time that they had decided to issue a massive recall," Gordon said. "We reported it well before it hit the wires or, so far as we know, any other news outlet . . .Everyone else in the country followed up on it. In my opinion, this was a valid 'Health Alert,' an important story that directly affected many thousands of our viewers, and could have prevented people from getting very sick. "
Everyone else in the country is following up on this latest Gordon scoop, too. Unclebarky.com has been relentlessly critical of NBC5's flash-and-trash approach to TV news. But in this case, Gordon again has the goods. He must be doing something right. Here's the video of his story: