Incoming at Belo8
11/12/07 01:42 PM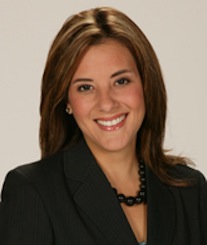 By ED BARK
Monika Diaz from ABC affiliate KXTV-TV in Sacramento is the latest addition to Belo8's reporting team.
The former Telemundo reporter will join the station in early December, Belo8 news director Mike Valentine confirmed Monday.
Diaz, raised in Miami, is a Florida State University graduate who joined KXTV in fall 2003. That station's bio says she began her broadcast career in 1996 as a "feedbay operator" at Miami-Fort Lauderdale's WSVN-TV, a Fox affiliate. Diaz, 33, quickly became a news writer before getting her first full-time reporting job at Telemundo affiliate KSTS-TV in San Jose. She spent six years at the Spanish language station before moving to KXTV.
Addendum
: Diaz does have a rather saucy
MySpace page
that doesn't exactly fit the old Belo mold. Times change.