Early morning meteorologist Julie Bologna leaving CBS11 for later shift in her hometown Pittsburgh
07/18/08 05:18 PM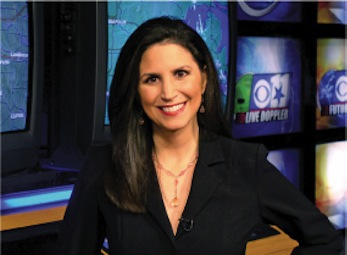 By ED BARK
It's official. As rumored, CBS11 early morning meteorologist Julie Bologna is leaving the station after four years to rejoin WPXI-TV in her hometown of Pittsburgh.
She'll be the featured forecaster on the station's 5 and 10 p.m. weekday newscasts, beginning in September.
Bologna had spent five years at WPXI before joining CBS11 in July 2004. Over those years, she had stayed in contact with management at several Pittsburgh stations.
"There have been talks with all of the stations since I left to see if I was interested in coming back," Bologna said in a telephone interview early Friday evening. "And so when it really became a strong interest, I called them. For me it was just a good opportunity (at WPXI). I really thought long and hard and took the best one. They're all wonderful news organizations . . . I'm definitely excited to go back to WPXI."
Bologna, 36, declined to specify her reasons for leaving CBS11. But she noted that her parents still live in Pittsburgh, and that home ties are more important now that she's the mother of two children, ages two and four months. Her husband of almost 10 years is a native Texan.
"I loved working at CBS11," Bologna said. "I have a lot of wonderful friends there that I'm really going to miss."
CBS11 news director Scott Diener, in a memo to station staffers, said he has "mixed emotions" about Bologna leaving.
"While we hate to lose someone of Julie's talent, knowledge and wonderful personality, I am happy because she gets to return to her hometown in a very prominent role," he said. "I know Julie was loved in Pittsburgh when she was there."
Bologna said she doesn't yet know when her last day at CBS11 will be. The most likely in-house candidate to replace her is meteorologist Jeff Jamison.