Eliminator? Cuban's mambo leaves him staggered
10/01/07 10:15 PM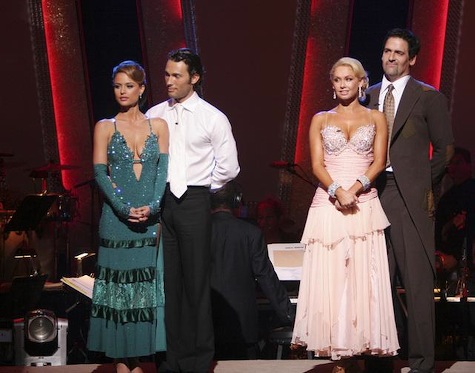 Bottom two-ing it last week, a grimacing Mark Cuban likely will be assuming that same position on Tuesday night's vote-off.
By ED BARK
Stripping his face bare in hopes of shaving off a few of those 49 years, Mark Cuban drove himself hard through Monday night's mambo.
The
Dancing with the Stars
judges then damned him with faint praise and borderline ridicule, leaving Cuban on a respirator with a next-to-last 18 score, three points lower than last week's fox trot.
Only bulbous Wayne Newton's plodding quick step was judged inferior among the night's 11 performances. But his 15 points may not be low enough to spare Cuban.
Mr. Las Vegas has a far and wide fan base in sync with
Dancing
's heavier appeal among older viewers. Mr. Lost Wages perhaps isn't as well known as thought despite his headline-making rep for drawing heavy fines. And his devotees tend to be younger males who'd rather tattoo "I love the Captain & Tenille" on their forearms than watch this show on a weekly basis.
Still, Cuban got robbed. He merited at least another "Blackjack, Baby" 21, which would have put him in a six-way tie for fifth place rather than second to last after a Bottom Two dance with death the previous week.
The Dallas Mavericks owner even donned a sleeveless black shirt to further youthify himself while pro partner Kym Johnson again wore less with more panache than any of her peers. Maybe her popularity somehow can save Cuban. But Newton's got two-time
Dancing
champ Cheryl Burke dragging him along the hardwoods. Aw hell, what's the use.
Cuban got praise for working hard, which no doubt he's doing. The guy clearly meant it when he said in a pre-taped segment, "I just want to stay in this competition. I'll do whatever it takes . . . I am
not
ready to be eliminated." Maybe he wants it too much.
Second to dance, he and Johnson gyrated vigorously to Nelly's "Ride Wit Me." Imagine Jerry Jones actually trying that rather than having a Gumby dance faked for him during that Papa John's spot.
"You certainly made me laugh," began judge Carrie Ann Inaba, a tip-off that maybe this wouldn't be going particularly well. "You've got so much exuberance when you dance. And your face was dancing twice as hard."
"If there was a prize for hard work, dedication and will to win, you would be handed that prize," said judge Len Goodman, meaning a "but" was enroute.
"It was hot at the top. It was a little bit wooden down below," Goodman added before nutty Bruno Tonioli said, "It's like watching a bulldog chasing a squirrel."
It's all left Cuban clinging, dangling and desperate for a sympathy vote he's not likely to get. He did, however, leave it all on the floor while two actors in costume from ABC's new Geico-inspired
Cavemen
series took it all in.
If it's so easy, then why don't they do it?
OK, it's time to shuck the grape green Oleg Cassini smoking jacket, undo the Michael Corleone brand ascot and polka off to dreamland.