Cuban to judges: You don't count anymore
10/03/07 09:52 AM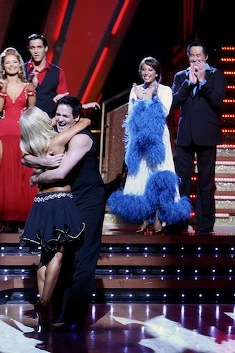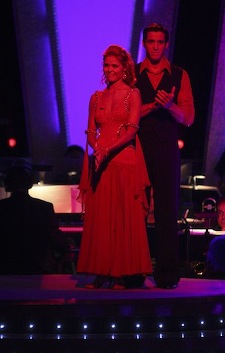 Mark Cuban and Kym Johnson survive a vote-off while evicted Albert Reed looks blue in Dancing with the Stars' red light district.
ABC photos
By ED BARK
Too tired to even blog about his exploits, Mark Cuban sent this wee hours email after viewer voting kept him on his feet during Tuesday's
Dancing with the Stars
on ABC.
"It was a lesson that the fans are who make the show and votes are what count," the Dallas Mavericks owner said after judges had given his mambo a piddling 18 score Monday night. "There are all kinds of ballroom rules that we try to stick to, that we were told would cost us points with the judges. Unfortunately, only a few of us seemed to pay attention to them.
"So now we are all about working hard for the fans first and last. We are going to work hard as a thank you to those who supported us and gave us this opportunity."
Cuban has been soliciting votes on his
blog
, but he's hardly alone among the show's celebrity competitors. Check out
Marie Osmond
. Or Indy 500 champ
Helio Castroneves
. Or
Jane Seymour
. Etc., etc.
He went back to rehearsal after Tuesday's reprieve.
"I'm tired, and need to get my sleep before getting up at 3:30 a.m. to get my work done so we can rehearse again," Cuban said in the email, sent at 11:44 p.m. Los Angeles time.
He plans to be back in Dallas Friday for a Mavericks practice, the Dallas Stars home opener, his daughter's 4th birthday party and "more rehearsal."