Runaway Runway, now on Lifetime, has two North Texans among its designing women/men
07/09/09 01:05 PM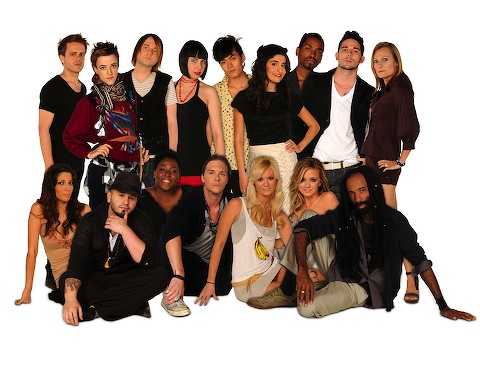 Project Runway's 6th season contestants include Lone Star needlers Louise Black (4th from left, upper row) and Shirin Askari (4th from right, upper row). Premiere date is Aug. 20th. Lifetime photo
By ED BARK
Bravo for Lifetime, which resolved its legal battle over the rights to
Project Runway
, which used to be on NBC Universal-owned Bravo.
The sixth season of the (Peabody winning!) reality competition dawns on Aug. 20th in tandem with a new "companion series,"
Models of the Runway
. Included in the mix are two from Texas.
Louise Black
, 32, originally from Temple, now resides in Dallas, says a Lifetime publicity release. In one of her several videos on Lifetime's Web site, Black greets "my lifetime.com people" and tells them she loves "anything with a decadent, decaying sort of feel to it."
Shirin Askari
, 24, was born in Tulsa. But the freshest press materials say she now lives in Garland, also the home of unclebarky.com central. Never mind that Lifetime's behind-the-curve Web site says she's still holed up in Richardson. Her official "Home Visit" video declares her a major
I Love Lucy
fan who also gets "a lot of inspiration" from watching old movies.
They'll be competing for a $100,000 cash prize, a feature article in
Marie Claire
magazine and a trip to Paris.
Project Runway
, hosted by Heidi Klum, also features "mentor" Tim Gunn and judges Michael Kors and Nina Garcia.
Let the record show that your friendly content provider is pounding this thing out while snappily attired in a baby blue Gap T-shirt and brown mustard-hued walking shorts from the now defunct Steve & Barry's.