One helluva freakin' win: Dallas finally does Denver
05/12/09 12:18 AM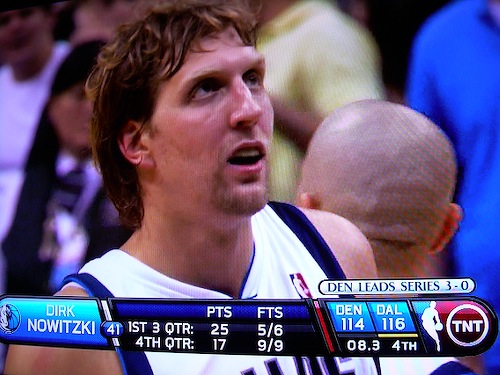 The TNT graphic says it all. And he wasn't done yet. Photo: Ed Bark
By ED BARK
TNT knows drama, especially when the Mavs and Nuggets play like they did Monday night.
A super-pulsating Game 4, in which Dallas staved off a sweep with a 119-117 win, doesn't come close to achieving the seemingly impossible dream of coming back from a 3-0 hole. But it did prove two things:
Dirk Nowitzki is a lion when wounded and a true gamer when all seemed lost. And the oft-injured and maligned Josh Howard showed grit and guts by toughing it out on two bad legs. Exhilarating. Even Charles Barkley could speak no ill of Nowitzki after again branding him a softie earlier in the series.
"The game came down to Dirk refusing to let Dallas lose," Barkley said on the post-game show.
Nowitzki's 19-point 4th quarter -- and 44 points for the game -- goes down as an all-timer in Dallas pro sports history. And now he'll likely have to do it all over again if the Mavs are to have even a ghost of a chance on the Nuggets' home floor Wednesday night.
"We're gonna go up to Denver and let it all hang out again," he promised in TNT's post-game interview.
For now let's take his word for it. Enjoy the afterglow.