And this is the way it is: Amanda Congdon's new ABCNews.com video blog makes her an instant rising star
12/13/06 10:12 PM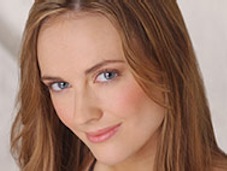 By ED BARK
Most of ABC News' old-line star journalists now are either deceased (Peter Jennings), have left the building (Ted Koppel, Brit Hume), are little-used (Sam Donaldson, Cokie Roberts) or keep blabbing away on entertainment specials and
The View
(Barbara Walters).
So it's a perfect setup, on ABCNews.com at least, for comely, attitudinal Amanda Congdon. She didn't train in the traditional trenches and would probably give Walter Cronkite the willies -- to use a term he might use.
On her first
blogcast
for ABC, she initially talked about "how much JavaScript sucks." It occurred to her while she drove to work. The 5 minute, 38 second mini-cast, which premiered this week, then discoursed on Tori Spelling's made-for-TV garage sale for her new reality show; the continuing SPAM epidemic; Nintendo's new Wii as a potential in-home gym; and the popularity of designing "virtual snowflakes" online as part of a new, touchy-feely Red Cross campaign.
She didn't want to get too carried away on the latter, though. "I sound like a pansy," she fretted, a simple declarative sentence that stately
ABC World News
anchor Charles Gibson generally tries to stay away from. But as ABCNews.com says by way of introduction, "The rules are changing."
Congdon, 25 and a Northwestern University grad, wore a figure-flattering, green Steely Dan t-shirt for her first outing. She prepped for this role on Rocketboom, an independent webcast that made her a big enough Internet star to play herself last season on
CSI: Crime Scene Investigation
.
Her new ABCNews.com gig doesn't necessarily mean the end of Western civilization. But Congdon's "as if" voice inflections and Valley High vocab -- "OK, this is weird" -- almost instantly make Katie Couric seem like Estelle Getty.
Couric makes history in what had been a man's world, with her every move scrutinized and dissected. Congdon breezes onto her new scene almost undetected, inviting viewers to "take a little break, a little trip with me." Imagine Couric trying to set sail with that one.
Somehow it works for Congdon, who's clearly no Cue Cat. She looks very good to go in a Max Headroom world come to roost. Couric struggled with how to sign off the
CBS Evening News
, and even asked for viewer submissions. Congdon unflinchingly says, "Thanks for hangin' out today" as an appetizer. Then she closes the deal with, "C'mon, speak. Risk it."
She's no longer even a risky proposition for ABCNews.com, where the aforementioned Donaldson once blazed a trail with the first network webcast. He now pops up once a month or so on ABC's still conventional
This Week with George Stephanopoulos
.
It's odd, isn't it? Donaldson was exiled to the Web because the tube didn't want him anymore. Now ABC sees him as too cob-webbed for the Web.
Amanda Congdon's the way it's gonna be. And with Amanda, says ABCNews.com, "you aren't just a viewer -- you are an active partner in creating content."
Let's just hope that NBCNews.com doesn't counter by hiring Nicole Richie. Congdon's quite enough for now, thank you.