Prison Break: Will they stay or will they go? Maybe both
01/22/07 09:10 PM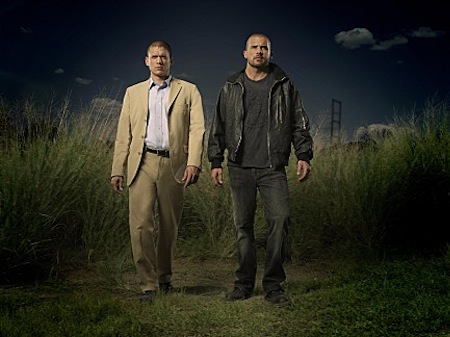 Run, don't walk: Prison Break's Wentworth Miller and Dominic Purcell.
By ED BARK
Prison Break
still hopes to call Dallas home next season, producer Garry Brown said Monday.
Brown also said he doesn't want to "contradict" Fox entertainment president Peter Liguori, who told unclebarky.com on Saturday in Pasadena that
Prison Break
is "very unlikely to be in Dallas" after production on Season 2 ends in mid-March. "But we might shoot some stuff in Dallas," he said after a formal interview session with TV critics.
"Anything can happen in the film and television business, but right now we don't have any immediate plans to go to a different area for most of Season 3," Brown said in a telephone interview Monday evening from
Prison Break's
Dallas production offices. "It's possible that we could venture outside the state briefly, and also travel to the southern portion of Texas to get a different look for the show."
Brown said he hoped to "maybe ease the minds of the people in Dallas by clarifying what our tentative plans are for next season."
Prison Break
, which returned to Fox Monday night with the 14th of this season's 22 episode, is a likely returnee to Fox next fall. The Season 2 finale is set for April 2nd.
"At this point we haven't made a definitive decision, but they have a very exciting third season planned," Liguori said.
Both Liguori and Brown emphasized that Dallas and the North Texas area have been great venues for the show.
"We're more than happy with everything they've provided," Brown said. "It's worked as we were all hoping it would work."
At a Fox party in Pasadena Saturday night,
Prison Break
co-star Dominic Purcell (escapee Lincoln Burrows) said there are "whispers of it maybe being in Florida or Louisiana next season. That's what I've heard. It depends on where the writers want to take the show."
Dallas has been "very hospitable," he said, but "it's been an experience in patience for me. I'm a surfer and it's hard for me not being near the water."
Wentworth Miller, who plays Lincoln's brother, Michael Scofield, said he has "heard rumors that we'll be staying (in Dallas) and rumors that we're going."
"I think the secret to the show's success is we are using these real locations. We're not at some sound stage in Burbank."
Miller said he's game for a Season 3, even if it means his character might be behind bars again. Scofield's numerous criminal offenses since springing his brother make it likely he's "looking at some real jail time somewhere down the line -- Fox River or someplace worse," Miller said.
"I think the fans aren't quite ready to say goodbye to the characters and I think we're not quite ready to say goodbye to the fans. So I imagine there will be a Season 3. That's what I"m feeling in my heart of hearts."