NBC5 reporter Brett Johnson dies at age 48
07/12/09 12:42 PM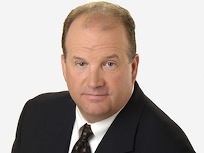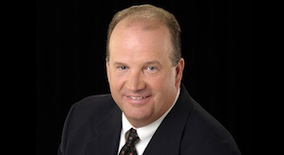 By ED BARK
NBC5 reporter Brett Johnson died Sunday at Baylor All Saints Hospital of complications from acute pancreatitis. The Fort Worth native was 48.
Johnson suffered what friends described as a "massive organ shutdown" shortly after being hospitalized Wednesday.
"He passed about 30 minutes ago," longtime friend and WFAA8 investigative reporter Brett Shipp said in a telephone interview that began shortly before 12:30 p.m. Sunday. "His family made the decision to pull him off of life support. He took about eight breaths on his own and passed peacefully. Obviously all of his close friends are just totally shocked. It just happened so suddenly."
NBC5 anchor Mike Snyder was among many friends and colleagues who visited Johnson at All Saints Saturday.
"The breadth of this man's soul is demonstrated by the number of friends who have just gotten down on their knees and prayed for him this week," Snyder said by telephone. "It is just incredible . . . He's a dear, dear friend, and it's difficult to put into words how much we love him."
Snyder, his voice breaking, said, "They disconnected the machines while we were at church this morning saying prayers for him . . . Brett was without question a man's man and a reporter's reporter. In a newsroom full of people in a mad dash, Brett was always someone who'd stop by your desk and make you laugh. He was just one of those endearing souls. We were just extremely lucky to have him."
Johnson and his girlfriend were planning to leave on a scuba diving trip to Mexico on the day he took seriously ill, Shipp said. Shortly after being admitted to the hospital he went into cardiac rest.
"We knew when we saw him on life support that there wasn't a lot of hope for him," Shipp said.
NBCdfw.com posted an
obituary for Johnson
at 12:35 p.m. Sunday. He joined the station as a freelance reporter in 1996 and had been a full-time staffer since early in 2005. Johnson also worked at two other North Texas TV stations -- KDFW-TV (Channel 4) and KTVT-TV (Channel 11) before the latter station was bought by CBS. His first TV appearance was as a seven-year-old kid on KTVT's Saturday morning Icky Twerp birthday party show. As an adult, his first loves were music and all things Texana, friends say.
Shipp and Johnson first met as fellow journalism students at Stephen F. Austin University.
"Our careers took a pretty amazing parallel path," Shipp said. They worked in Nacogdoches, Lufkin and Oklahoma City before becoming colleagues at KDFW.
A graduate of Eastern Hills High School in Fort Worth, Johnson had a "passion for Fort Worth, it's culture and its music, and the Stock show," Shipp said. "That was his signature, covering the Fort Worth Stock Show. He really pushed for coverage of Texas arts, from the chili cookoffs to any kind of Texana feature story. He just loved to do those. With his departure, you just wonder who's going to pick up that passion anymore."
Billy Bob's Texas in Fort Worth immediately agreed to host a memorial for Johnson "on the main stage on whatever night we want," Shipp said.
"He's just that well-loved. He was an old-school guy who believed in giving the viewers what they need, and not presuming that the news is all blood and guts."
Former NBC5 meteorologist James Aydelott, who left the market earlier this year to do weathercasts for a Tulsa station, said he "could always count on Brett to make me laugh with his wicked, sarcastic wit, especially about the news business. Yet he was so full of zest for music and life and living.
"He would always take the extra time to enjoy a good song or a ride around town with his dogs. He also fed us fried turkey every Thanksgiving, and was always spot-on with his restaurant recommendations . . . To say he was unique is an enormous understatement."
Johnson's nbcdfw.com obituary noted that he recently reported on the first day of another sweltering Texas summer.
"Listen, I was born
and
raised in this state," he told viewers. "And I can break a sweat at the drop of a hat. And I'm telling ya, I'm predicting a long, hot one."
In Shipp's words, Johnson was "just one of the most fun-loving compassionate people I've ever known. I just never had a bad time with Brett Johnson, no matter what we were doing."
Here is video of NBC5's video tribute to Johnson. It's narrated by reporter Scott Gordon, who says of his friend, "Brett Johnson always felt more comfortable in a cowboy hat than a suit and tie."