Michaels, Madden make Cowboys listenable
12/10/06 11:15 PM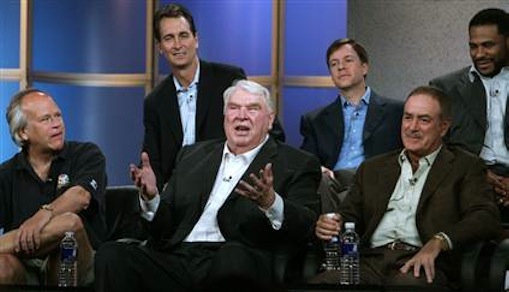 John Madden, Al Michaels and friends met with TV critics in July.
By ED BARK
Well, at least you got to hear a good game. And this time you didn't have to turn on the radio and turn down the TV sound.
NBC's Al Michaels and John Madden again carried the ball while the Cowboys dropped it Sunday night during a 42-17 pasting from the New Orleans Saints. Michaels remains the best play-by-play guy in the biz while Madden still dissects plays even better than he cuts into a steak.
The latter is easily parodied, particularly by impressionist Frank Caliendo. But when push comes to shove on a typical NFL play, it's Madden who usually knows precisely what happened and why. He had all the answers on the Saints' cleverly camouflaged first touchdown, scored by seldom-used fullback Mike Karney. And Madden perceptively noted in the first half that New Orleans coach Sean Payton had established the upper hand in offensive play-calling.
Michaels had a beautiful run in the first half, part of it luck. The city of Dallas has gone "ga-ga over (Tony) Romo," he told viewers. But coach Bill Parcells, the grinch who stole ga-ga, should consider replacing Larry David on HBO because "if there's one guy that can curb your enthusiasm, it's Bill."
NBC then showed a clip of Parcells downplaying Romo's previously strong play: "We've got a ways to go here, so put the anointing oil away," he said.
On the very next play, Romo threw an interception that led to the Saints' go-ahead-for-good touchdown.
"So I guess we
will
put the anointing oil away, at least on this drive," Michaels quickly ad-libbed.
The guy still has a way with words. Viewers were told early in the game that Saints QB Drew Brees had won a high school football championship a decade ago in Texas Stadium with Austin's Westlake High School. When Brees eventually threw his fifth touchdown pass, Michaels said, "He's used to the Friday Night Lights. Tonight it is Sunday Night lights out."
He also had the balls to rip the Cowboys' pyrotechnic halftime show, which left Texas Stadium in a smoky haze as the third quarter began.
It's doubly stupid in indoor arenas," said Michaels, who then referred to it as "some garbage at halftime" and "a disaster waiting to happen."
Michaels likewise didn't miss a beat after Reggie Bush scored a touchdown on a spectacular catch-and-run. He immediately sent a sympathy card to fans of the Houston Texans, which bypassed the chance to take the Southern Cal star with pick No. 1 in last spring's draft.
"Every Texans fan has to be saying, 'What in the hell did we do?' " Michaels said.
It was all in a night's work for the dean of NFL broadcasters. He even found a way to niftily reverse field after opening
Sunday Night Football
with a figurative yahoo.
" 'How 'bout them Cowboys' is the rallying cry once again in North Texas," Michaels said.
By game's end, he duly paid homage to Saints fans who were loudly whooping it up in the belly of the beast.
The new rallying cry, he said, is, "Who dat gonna beat dem Saints?"
Dem guys, Michaels and Madden, are still pretty damned good.