Enjoy a getaway "staycation" at the next Uncle Barky Show on July 19th
07/09/08 08:14 AM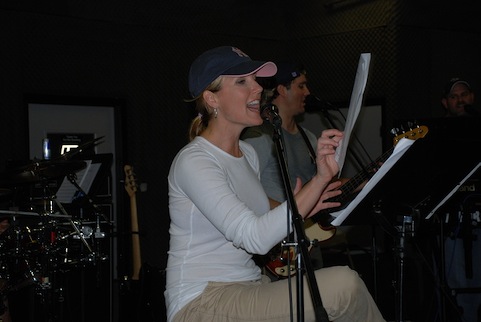 Airline and fuel prices got you down? Feel like you're in a rut? Then stay close to home and motor over to the first "American Bandstand" edition of the Uncle Barky Show, with TXA21/CBS11 anchor Tracy Kornet (above) leading the vocal charge with members of the
Eleven21 band
.
Kornet
and mates Tommy Hiett (lead guitar), Richard Frish (saxophone) and True Tidwell (keyboards) will perform a half-hour acoustic set at our usual venue,
Stratos Global Greek Taverna
, 2907 West Northwest Highway. Admission is free, with great food and drink specials readily at hand. Show time is 4 p.m. on Saturday, July 19th.
All of the accomplished band members otherwise are TXA21/CBS11 staffers, with lead vocalist Kornet also co-anchoring TXA21's prime-time newscasts and CBS11's 4 p.m. editions. After the concert we'll interview them about their dual careers and as always take your questions. Expect to hear a cool selection of rock, R&B and soul from the '70s, '80s and '90s.
The best part is Stratos' ongoing generous contributions to the guests' designated charities. The Eleven21 band has selected
Happy Hill Farm
of Granbury, TX, whose mission is providing specialized help to children who "need another chance in life."
So far a total of $3,500 has been donated by Stratos to North Texas charities. Our guests for the first five Uncle Barky Shows, which began in December, have been "Ticket" radio personality Gordon Keith; CBS11 anchor Tracy Rowlett; Fox4
Good Day
anchors Tim Ryan and Megan Henderson; Dallas documentary filmmakers Mark Birnbaum and Manny Mendoza; and WFAA8's Dale Hansen and Pete Delkus, respectively the stations' sports and weather anchors.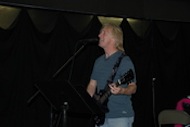 Left to right: True Tidwell, Richard Frish and Tommy Hiett
Here are thumbnail sketches of the other Eleven21 band members performing at the Uncle Barky Show.
True Tidwell
-- She's helped light the fires of bands and singers ranging from Bloodrock and The Oak Ridge Boys to B.J. Thomas and Sammy Kershaw.
Richard Frish
-- He's had sax with a number of prominent acts, including The Dixie Chicks, Lee Ann Rimes, The Gatlin Brothers and Jack Wagner. Frish also was part of the original cast of Beatlemania.
Tommy Hiett
-- He's electrified audiences while playing with Elton John and Huey Lewis. Hiett also has opened for Cheap Trick and The Motels, and headed his own band, Tommy Hiett and the Haywires.
So c'mon out and support another worthy charity and D-FW's only homegrown TV Web site, unclebarky.com. Your attendance is greatly appreciated and of course is also instrumental in keeping these shows going.
Ed Bark