Cowboys survive Packers, Gumbel
11/29/07 10:52 PM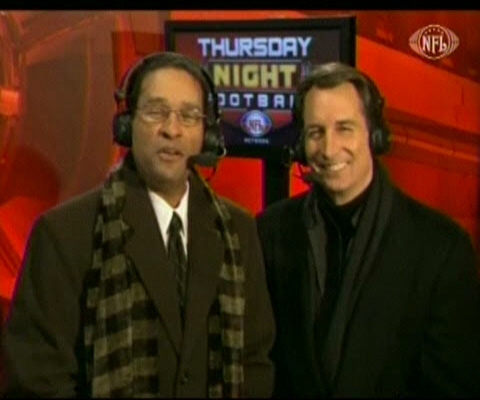 Bryant Gumbel and his much, much better half, Cris Collinsworth
By ED BARK
What a beating -- not so much by the Cowboys but by the NFL Network's Bryant ("It would appear") Gumbel. Brutal. Just brutal.
The referees didn't help much down the stretch either, but let's not act like whiny Cowboys fans. Your lifelong Green Bay Packer-backer will accept defeat, buy CBS11 anchor Tracy Rowlett lunch and agree that Dallas made the big plays when needed in the season's biggest game for both teams.
Tony Romo again was extraordinary and Brett Favre pretty much played like a high school quarterback until being knocked out of the game. Under those circumstances, a 37-27 loss is about 20 points closer than it could have been.
Here's what Cowboys fans really should fear, though. Not a possible rematch with Green Bay but the certainty that the Dec. 22nd Dallas-Carolina game also will be in the hands of Gumbel and the NFL Network. Obviously the best recourse is to turn down the sound and tune in "The Ticket" for the Brad Sham/Babe Laufenberg radio-cast. Otherwise, it might be best to drink yourself into a stupor early by having a shot every time Gumbel says "would appear."
In Thursday night's game, you would have been out cold by halftime. Gumbel had eight "would appears" under his belt at that point, and added another five in the second half.
Those were collectively annoying enough, but Gumbel also has a penchant for fumbling names and identities.
And here come the Pack -- the Cowboys," he said as Dallas charged onto the field minutes before kickoff.
"The crowd doesn't like it, but the Packers will go for the tie," Gumbel later informed viewers as Cowboys kicker Nick Folk kicked a 26-yard field goal to knot the score at 3-3.
At game's end, Gumbel held open the possibility of a post-game interview by saying, "We'll see if he (sideline reporter Adam Schefter) can get a few words with Rick Romo."
Gumbel, in his second season as the NFL Network's point man, has admitted he wasn't very good last year. Wow, he must have been awfully, awfully bad if this represents an improvement.
Gumbel is the kind of announcer who says that Cowboys running back Marion Barber "would appear to have the first down" after he picks it up by more than 10 yards.
As the first half drew to a close, Gumbel told viewers, "The Packers will have to go some to get this one off before the two-minute warning." Not really. They snapped the ball just seconds later -- at the 2:09 mark.
The play clock later tripped him up. "Did he get it off? No, he did not," Gumbel said as a flag was thrown. But the penalty was for a false start against Dallas.
Near the start of the fourth quarter, with the Cowboys leading 27-24, Terrell Owens muffed a touchdown pass in the end zone, with the ball rebounding into the arms of Packers' defensive back Al Harris. Had Owens caught the TD, it virtually would have been "game over," Gumbel said. Game over? With 14:08 left and still just a 10-point lead for Dallas?
Oh mercy. Very luckily for Gumbel, he has an accomplished, savvy analyst beside him in Cris Collinsworth. The guy knows all the intricacies of the game, and adds to his arsenal with strong, informed opinions. Imagine Gumbel working side by side with the likes of Emmitt Smith, who's proved to be a mostly inept ESPN analyst this season. The two of them together would be akin to Donny and Marie calling an NBA game.
Maybe Gumbel somehow can get his head right with football before the Cowboys again are subjected to him. But at this point, as he'd say, it would appear not.