NBC5 tabs KOCO vet Rick Mitchell as new early morn meteorologist
07/16/12 03:58 PM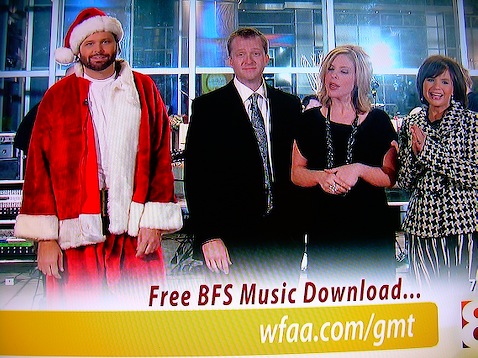 "Santa Gordo" joins GMT hosts at show's end. Photos: Ed Bark
By ED BARK
Had WFAA8 waited just two more days -- until Thursday -- it could have preempted an inconsequential rerun of ABC's
FlashForward
, which won't be returning until March.
Nuh-uh. D-FW viewers expecting to see
A Charlie Brown Christmas
and a new holiday-themed Disney special (
Prep & Landing
) instead were subjected to a live edition of the station's
Good Morning Texas After Dark
. This is naughty, not nice.
GMT
, as noted here previously, basically is a collection of mini-infomercials sharing space with actual non-paid program content. It has its place, I guess, in WFAA8's overall bottom line scheme of things. But that place is at 9 a.m. weekdays, not in prime-time. And especially not on a night when you're rubbing out two family-targeted Christmas shows in favor of
GMT
hosts tra la la-ing about products whose purveyors buy air time to hawk them.
Co-host Amy Vanderoef almost apologized at the outset. "We love Charlie Brown, too, so we wanted to make sure you didn't miss this holiday tradition," she said.
Viewers then were invited to record the two ABC specials on Saturday, Dec. 12th, when they'll be airing from 3:05 to 4:05 a.m. on WFAA8. ABC also plans to repeat
Charlie Brown
on Wednesday, Dec. 15th and
Prep & Landing
on the next night. Sorry, but that's still not a fair trade-off.
It'd be one thing if
GMT
scrapped its usual format and presented an actual Christmas special without all the usual mini-infomercial trimmings.
But that didn't happen at all. The Texas-weaned band Bowling For Soup (think Cheap Trick) provided some respite with three tunes, even if the bouncy, show-closing "Hooray For Beer" sounded more like a young drinker's descent into alcoholism than a Christmas sing-a-long.
Then there was "Santa Gordo," with
The Ticket's
(1310 AM) super-snarky Gordon Keith no doubt crying at least a little on the inside while periodically dispensing gifts ranging from Mavericks tickets to Metamucil Digestive Fiber to a
Grand Torino
DVD to a picture of himself.
Keith is a very talented and funny guy -- in the right venue. But trying to make merry on
GMT
is akin to Ozzy Osbourne singing
God Rest Ye Merry Gentlemen
with Andy Williams in Branson. Not a good fit.
Otherwise it was business as usual. The very briefly shown "Promotional Consideration Paid For By" disclaimer in the last commercial break listed Community Coffee, Northpark Center, Market Street and the Dallas Summer Musicals. WFAA8 also notes in fine print that "it does not endorse, sponsor or warrant any product or service referenced on
Good Morning Texas
. Any mention of products or services is for informational purposes only."
That said, the hosts gushed about everything put before them, sometimes mangling their blurbs a bit.
"Oh my gosh, I
love
all of this spread of toys that you brought," said Paige McCoy Smith.
Vanderoef similarly went cuckoo over the ongoing and coming attractions being presented by Dallas Summer Musicals, although she stumbled through her initial buildup for
101 Dalmations
. Earlier she cooed about the pricey fashion statements being made by three insolent-looking models dressed in designer outfits available at Northpark.
Co-host Rob McCollum in turn got all excited about the products ready for purchase at Market Street. He earlier took a taped road trip to Firsco's Main Event Entertainment complex, where a spokesman tripped over his tongue a bit in enthusing, "We have some new venues and we're thrilled to show you about them."
Once upon a time -- two Decembers ago -- WFAA8 produced and presented
A Why Guy Family Christmas Special
, hosted by the since departed Mike Castellucci (now with
San Diego's KUSI-TV
). It was hit and miss, but a good and game effort nonetheless. Not only that, it was infomercial-free.
Your friendly content provider wrote that Castellucci "should be encouraged to try more of these. They're not easy to do, and they can be even easier to criticize. Bravo for putting yourself out there, though. The learning curve won't be quite as steep if there's a second time around."
That obviously can't be said of
GMT
's holiday-themed
After Dark
special. It's all too easy to do, should be criticized and shouldn't happen again in the country's No. 5 television market.
That goes double on a night when Charlie Brown gets sacked. And really, for what?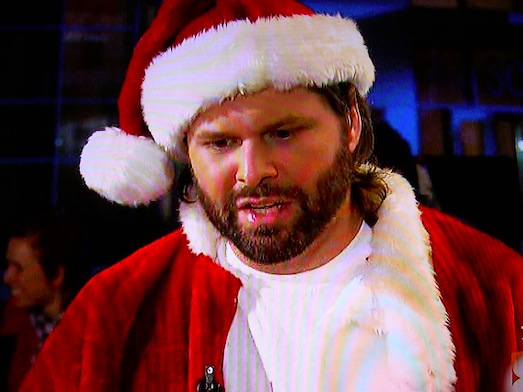 A freeze-frame is worth a thousand words. And to all a good night.