Headin' West -- for a last roundup
07/29/09 04:34 PM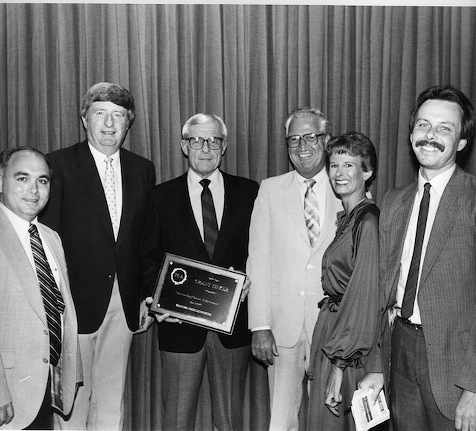 There at the creation: former NBC chairman Grant Tinker, winner of the first Television Critics Association Career Achievement award in June 1985, stands amid five past TCA presidents, including your then croissant-mustached friendly content provider at far right.
Saturday, Aug. 1st, will mark the 25th anniversary of the national Television Critics Association awards. Since I was at the first one, I'm going to this one.
The venue is Pasadena, CA, where networks began gathering Tuesday to shop their fall wares. I'll be leaving on Thursday and staying only for a few days. It seems like something very worth doing -- even though all of unclebarky.com's expenses will be billed to your friendly content provider, not
The Dallas Morning News
.
I won't be posting any stories while out there, but will gather some material and take some pictures. So this is the last post until Tuesday.
We have, however, left you with more fresh material, including a review of ABC's new Sunday night space spectacular,
Defying Gravity
. There's also a look at the Internet-only
Good Morning Texas
interview with Texas-born Bachelorette bad boy Wes Hayden
. And
Tuesday's D-FW Nielsen ratings
are newly in the house.
Our scoop on
Fox4's new Good Day co-anchor
remains in play, too. So check it all out, tell your friends, and we'll be back in business before you know it.
Ed Bark