Daybreak rising: a new name in the mix
11/20/07 04:05 PM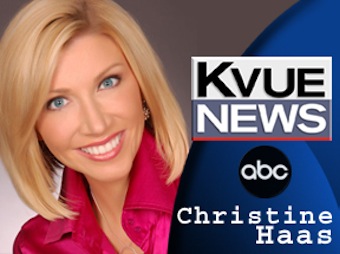 By ED BARK
Belo8 may end up having it both ways on
Daybreak
, hiring from both without and within to replace co-anchor Jackie Hyland.
Well-informed sources say that Austin news anchor Christine Haas, of corporate cousin KVUE-TV, has auditioned for the chance to join incumbent Justin Farmer on the currently No. 2-rated early morning show. Hyland is leaving at the end of the November "sweeps" to spend more time with her family in New York City.
Haas anchors the 6 and 10 p.m. weeknight newscasts for Belo-owned KVUE, Austin's ABC affiliate. She joined the station in August 2003, and has a wealth of awards to her credit, according to her official
bio
.
Haas arrived at KVUE from NBC station KARE-TV in Minneapolis, and is a 1998 graduate of Illinois State University. You can go
here
to read her KVUE blog, although the last entry dates back to Oct. 19th.