Belo8 tabs New Mexico for new Daybreak co-anchor
11/27/07 09:53 AM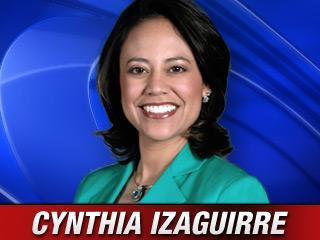 By ED BARK
Cynthia Izaguirre, a University of North Texas graduate who has spent the last eight years at KOAT-TV in Albuquerque, N.M., has been named to replace Jackie Hyland as co-anchor of Belo8's early morning
Daybreak
program.
"When you talk to her, you'll see the things we saw in her," Belo8 news director Mike Valentine said in a telephone interview Tuesday. "She's so vibrant and has such an outgoing personality. I think the viewers will really kind of respond to her. We think it's going to be a home run."
Izaguirre, a grad of Thomas Jefferson High School in Dallas, will join incumbent Justin Farmer on Jan. 2nd, Valentine said. As previously reported, Hyland is returning to New York to spend more time with her family after joining Belo8 in August, 2005.
Valentine interviewed both in-house and outside candidates for the position, including Christine Haas of Belo-owned KVUE-TV in Austin.
"We thought she (Izaguirre) provided the best fit for the show," he said. "It was a tough decision. We thought we had some really great people, both internally and externally. But bringing a home town girl back was really important to us."
Izaguirre had been co-anchoring the 5, 6 and 10 p.m. newscasts at KOAT, Albuquerque's ABC affiliate. Earlier in her tenure at the station, she worked the early morning shift.
On her station's
web site,
Izaguirre said, "New Mexico will always be my second home. I grew up here professionally and personally, and I will forever be thankful to the beautiful people who supported me every step of the way."
Daybreak
will finish a close second to Fox4's
Good Day
in the November "sweeps" ratings period, which ends on Wednesday. Valentine hopes that Izaguirre will help put the station on top. Belo8 newscasts already are No. 1 at 5, 6 and 10 p.m.
"You just put the best product on, and you hope viewers will like it," Valentine said. "There's no single thing you can do and then say, 'We'll win.' But it was either hire Cynthia or put Hansen and Delkus on in the morning."
He's jokingly referring to sports anchor Dale Hansen and weathercaster Pete Delkus, whose jabs at each other have become a staple of Belo8's 10 p.m. newscasts.