Layoffs in progress at CBS11; weathercaster Kahanek out (updated again -- and again)
05/01/09 11:13 AM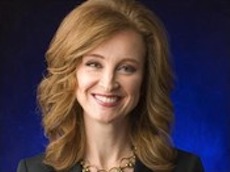 Kristine Kahanek out at CBS11By ED BARK
Sources confirm that CBS11 meteorologist Kristine Kahanek, who joined the station in 2002 as the station's chief temperature taker, has been dropped as part of Friday's layoffs at the D-FW-based station.
Technically she exercised an option to leave early. Friday is her last day at the CBS-owned station. Another CBS television property, Chicago-based WBBM-TV, also has been downsizing this week.
Kahanek, who previously worked at WFAA8 for four years, had gradually seen her duties diminished. In August of last year, she was
relocated to the station's 4 p.m. newscasts
while also serving as new chief meteorologist Larry Mowry's main backup.
Kahanek, a Texas A&M graduate, had just published a new children's book at the time, titled
Katie and the Magic Umbrella
. News director Scott Diener said then that Kahanek's decreased workload would "allow her to spend more time at much-requested public and school appearances and to work on publicizing a project dear to her heart."
Kahanek, in a lengthy goodbye on her
independent Web site
, says that her removal from CBS11's 10 p.m. newscast "was a blow and unexpected. But their decision came at a time when I was already searching for something else more meaningful and significant to do with my life. Not doing the 10 p.m. show gave me the opportunity to have dinner with my family most nights, read to my children before bedtime and get myself to bed before midnight."
She also hopes to chart a new path that "feeds my soul," Kahanek writes. "I feel like it's been running on empty for quite awhile. I want to make a difference in people's lives, and while I may have done a bit of that while on television, I've only scratched the surface."
Besides Mowry, CBS11 and its sister station, TXA21, still have meteorologists Jeff Jamison, Mike Burger and Garry Seith.
Friday's layoffs also so far have claimed assistant news director Sarah Garza and three assignment desk personnel, according to sources.
Garza, who joined the station late in 2007 from WFAA8, had her position "eliminated," sources say.
The station also is shutting down its Dallas-based news assignment desk and consolidating operations in its main Fort Worth building located off I-30.