Up-close and objective: Feb. 20th's late night D-FW newscasts
02/21/13 04:05 PM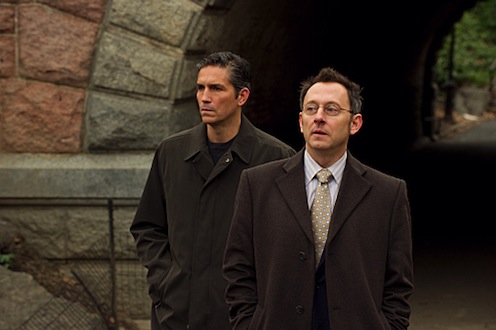 Jim Caviezel & Michael Emerson star in Person of Interest. CBS photo
Premiering:
Thursday, Sept. 22nd at 8 p.m. (central) on CBS
Starring:
Jim Caviezel, Michael Emerson, Taraji P. Henson, Kevin Chapman
Produced by:
J.J. Abrams, Bryan Burk, Jonathan Nolan, David Semel, Greg Plageman
By ED BARK
Men o' action used to be plentiful in prime-time. Handy with their fists and at ease with weaponry, they'd slug and shoot their way through whatever crooks were available.
Now they're a dying breed. Women call the shots in most of this fall's new dramas, with just one of them dependent on a hard-charging leading man. Old school CBS is the carrier and
Person of Interest
is the show. Buckle up.
Jim Cavaziel, beaten to death in
The Passion of the Christ
, gets a chance to mete out punishment as a presumed dead former government operative who feels betrayed and looks like hell until Michael Emerson from
Lost
finds him.
The
Lost
link extends to co-executive producer J.J. Abrams, who initially masterminded that series before pretty much leaving it to others. He's now behind
Person of Interest
, a vigilante-style numbers game in which Emerson's "Mr. Finch" has an incredible array of data but otherwise needs some muscle to keep bad things from happening. That's where Cavaziel's Reese comes in, with neither principal character getting a full name so far.
In what amounts to the obligatory flashback scene, Reese is first seen in the sack with the love of his life, Jessica. The date turns out to be Sept. 11, 2001. And from that day on, Reese apparently had some very bad things happen to him, including Jessica's demise. It's led him to the point of being a very disheveled looking suicidal drunk who's slouched in a Manhattan subway car when accosted by a group of young punks.
They shouldn't have done that. Because Reese easily bloodies, bruises and subdues all four of them before being taken to the cop shop for questioning. His interrogator, a homicide detective named Carter (series regular Taraji P. Henson), tries to feel his inner pain. But her mystery man is soon bailed out and taken off to meet Mr. Finch. "You need a purpose," Reese is told. "More specifically, you need a job."
So Finch riddles him this. He has a post 9/11 wealth of social security numbers at his disposal, and a woman prosecutor currently is at the top of his list. This means that in the very near future, she's either in jeopardy or plans to jeopardize others. Reese's mission, should he accept it, is to avert whatever's about to happen. He's at first reluctant, of course, but gets quickly into the swing of things.
Reese's specialty in Thursday night's opener is shooting adversaries in their thighs. This serves to disable them without deep-sixing them. "I don't particularly like killing people," he says. "But I'm very good at it."
Reese also is well-practiced in the arts of breaking and entering, and cell phone tapping. It greatly aids him in keeping tabs on the mark of the week. Meanwhile, Finch limps along at his side -- literally -- while otherwise exhorting him from afar to act quickly or all is lost. It's somewhat akin to
The Equalizer
, the 1980s CBS action series in which a disillusioned former government secret agent came to the aid of innocents while also occasionally consulting with his former Agency boss.
Person of Interest
cuts deeper than that, with viewers also getting a little treatise on why Finch is so good with numbers. Ya see, the federal government built this incredible array of all-seeing devices and machines after 9/11. And Finch designed and built the principal hardware before becoming haunted by the idea that only major life-and-death situations were of interest to the feds. Garden variety murders, at the rate of one every 18 hours in Manhattan -- were not on the government's radar for some reason. Finch felt bad about that, even though he expects to be murdered himself some day for his rogue efforts.
Emerson is well-suited to this stuff after six years as the manipulative Benjamin Linus on
Lost
. Cavaziel plays his role straight up and a little creepily at times. His sense of humor occasionally kicks in. But even Chuck Norris on
Walker, Texas Ranger
had an overall more jovial temperament.
Person of Interest
, which has a dank but filmic look to it, will also be unraveling layers of both men's traumatic back stories. Because that's the way Abrams rolls. Pretty much everything is a conspiracy.
"Let's just say you're not the only one that's
lost
something," Emerson's Finch tells Reese later in the premiere episode, emphasizing the word "lost" in case you somehow couldn't place him.
Together they'll be the brains and brawn of this operation in times when the broadcast networks aren't particularly interested in take-charge men with acquired tastes for pounding the hell out of bad guys -- or shooting them in their thighs. Thanks. We maybe needed that.
GRADE:
B