Finding his own voice: veteran ventriloquist wins America's Got Talent in final face-off of two North Texans
08/21/07 10:20 PM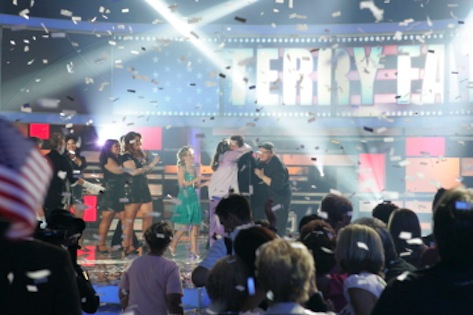 Victorious ventriloquist Terry Fator of Mesquite savors the moment.
By ED BARK
Maybe now he can form a dummy corporation. Mesquite ventriloquist Terry Fator bested Arlington-based singer Cas Haley Tuesday night to win the $1 million grand prize on NBC's
America's Got Talent
.
Fator, 42, also got an offer to perform at Bally's Las Vegas. The city seems well-suited to his uncanny vocal impressions of singers ranging from Etta James to Elton John to Roy Orbison.
Fellow North Texan Haley, 26, also got a big boost for his high-pitched reggae song stylings.
Got Talent
has ranked as summer's most-watched series since its second season began in late May with auditions from Dallas.
Tuesday's other two finalists, "musician/beatboxer" Antoinette "Butterscotch" Clinton of California and 14-year-old vocalist Julienne Irwin of Maryland, were eliminated by phone and Internet votes before Fator and Haley stood side by side to sweat it out on live TV. Host Jerry Springer of course did the usual cruel run-up, telling viewers, "The winner of
America's Got Talent
is" -- pause, one, two, three, four, five -- "coming up right after this."
Fator was uncommonly speechless after his crowning achievement. But he eventually managed to shout, "Thank you so much, America!" after an encore performance of his Winston the Impersonating Turtle singing Orbison's "Crying." His wife, Melinda, and a gaggle of well-wishers than engulfed him onstage.
Contestants, viewers and sensitive dogs also had to endure judge David Hasselhoff's painfully overwrought rendition of "This is the Moment" near the end of a nearly interminable two hour, two minute Season 2 finale.
Injured co-judge Piers Morgan, the requisite tart Brit, at first told the truth.
"I didn't think I would ever experience the agony of breaking three ribs," he said. "But I just did it all over again."
Then he added in all mock sincerity, "I love the Hof."
Fator gallantly stayed the course anyway. He's no dummy.