CBS11 drops Dirk bombshell (updated again)
05/07/09 12:19 PM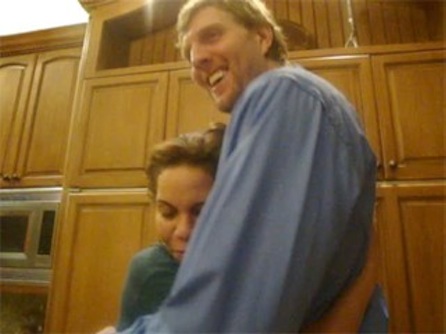 Dirk Nowitzki and Cristal Taylor in Facebook picture posted on CBS11 Web site. The station's J.D. Miles says her "best friend" has told him the couple are engaged and that she's pregnant.
By ED BARK
CBS11 and reporter J.D. Miles are
reporting
that the woman arrested at Dallas Mavericks star Dirk Nowitzki's North Dallas home is his pregnant fiancee.
The woman, 37-year-old Cristal Taylor, was jailed Wednesday on a fraud warrant. CBS11 says it also broke that story on its
Web site
.
On Thursday's
Midday
newscast, WFAA8 anchor Cynthia Izaguirre told viewers that "sources tell News 8" of the Nowitzki-Taylor relationship and her pregnancy. The CBS11 story says its source is Taylor's "best friend," who insisted on anonymity.
WFAA8's web site
posted its story
-- "Source: Nowitzki's jailed 'friend' is his fiancee" -- at 12:28 p.m. Thursday. Investigative reporter Brett Shipp has the principal byline, with Rebecca Lopez and Jason Whitely listed as contributors at the bottom of the story.
CBS11 posted Miles' story -- "Nowitzki Reportedly Engaged to Arrested Woman" -- at 11:07 a.m. the same day.
On its Web site,
The Dallas Morning News
initially
credited CBS11
with breaking the story of Taylor's reported pregnancy. Shortly after, however, it removed that credit and any references to the reported pregnancy. The newspaper instead credited CBS11 as the first to report that Nowitzki had hired a professional investigator to check into Taylor's background.
(A bit later, the DMN re-inserted the pregnancy allegations and again credited CBS11 with first raising them.)
Also on Thursday WFAA8 obtained and posted
home video
of Nowitzki and Taylor joking and laughing with one another in his kitchen. CBS11 posted the video as well. Nowitzki
declined to discuss his relationship
with Taylor after Thursday's practice session in Dallas.
"It's pretty obvious that I'm going through a tough time in my personal life right now," he acknowledged while surrounded by reporters. That video also quickly made its way to the WFAA8 and CBS11 Web sites.
While WFAA8 and CBS11 fought for exclusives, rivals Fox4 and NBC5 seemed content to sit on the sidelines. As of 2 p.m. Thursday, their Web sites had failed to advance the story beyond Taylor's initial arrest.