Cuban gets a leg up with prime choice partner
08/29/07 10:15 AM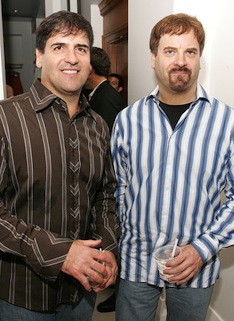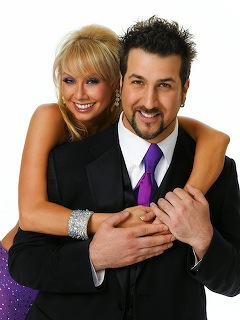 Mark Cuban, pictured with right hand man Todd Wagner, soon will have a much cuter business partner in lush, leggy Kym Johnson (shown with reigning Dancing with the Stars runnerup Joey Fatone).
By ED BARK
Dallas Mavericks owner Mark Cuban, now officially in the
Dancing with the Stars
field, will be getting one of the show's dream partners in Kym Johnson.
ABC says so in a press release sent to TV critics shortly after 8 a.m. (central) Wednesday, although the network apparently hadn't yet told Cuban.
"I get to meet my partner in a few hours," Cuban said in an email sent at 9:48 a.m. Wednesday. "I hope it's Kym. I don't know yet."
He's going to be a happy man. Johnson helped guide Joey Fatone to a second place finish in the most recent
Dancing
. Even more impressive, she made Jerry Springer took good and took him all the way to the third edition's midway point despite his weekly pleas to vote him off.
Cuban, who turned 49 on July 31, says that ABC approached him to participate in the hit show's fifth edition, which premieres on Sept. 24th. His competition will include Wayne Newton, Marie Osmond, Jane Seymour, Floyd Mayweather, Jr., Melanie "Scary Spice" Brown, Cheetah girl Sabrina Bryan and two-time Indy 500 champ Helio Castroneves.
"This is one of those chance-in-a-lifetime opportunities," Cuban said. "I love to dance. The show is amazing. As my wife (Tiffany) has always said, it's the one show our whole family can get excited about. The people have been first-class. I love to compete. At my age -- since I can't go down to the gym and play basketball for a while because of my hip -- this is going to be a great way to get the competitive juices going. I can't wait!"
Cuban, who had hip replacement surgery on June 29th, says he "plans on working as many hours as my hip will let me. I've already asked them to switch studios so that we can practice longer than the three-hour limit in the current studio."
Dancing
's four previous champs are soap star Kelly Monaco, singer Drew Lachey, former Dallas Cowboys great Emmitt Smith and Olympic skating gold medalist Apolo Anton Ohno. The latter joined co-host Tom Bergeron and judge Carrie Ann Inaba in announcing the latest field on Wednesday's
Good Morning America
. Bergeron proclaimed Cuban "our first billionaire."
A previous contestant list leaked Monday by Web tattler TMZ.com got eight of the 12 names right but made some notable mistakes. TMZ initially missed out entirely on Osmond and erred in putting Tori Spelling, Lou Ferrigno and model Giselle Bundchen in play. Besides Cuban and Osmond (who's teamed with Jonathan Roberts), here are the other 10 competitors and their pro partners:
Melanie Brown
(with Maksim Chmerkovskiy)
Sabrina Bryan
(newcomer Mark Ballas)
Helio Castroneves
(Julianne Hough)
Jennie Garth
(newcomer Derek Hough, Julianne's brother)
Josie Maran
(Alex Mazo)
Cameron Mathison
(Edyta Sliwinska)
Floyd Mayweather, Jr.
(Karina Smirnoff)
Wayne Newton
(Cheryl Burke)
Albert Reed
(Anna Trebunskaya)
Jane Seymour
(Tony Dovolani)