Sign o' the times: cutbacks claim former WFAA8 personality Bill Ratliff after generation-spanning career in Tampa
04/17/09 04:33 PM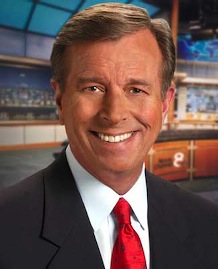 By ED BARK
Bill Ratliff, former co-host of Dallas-based WFAA8's
PM Magazine
with Leeza Gibbons, is calling it quits at Tampa, Florida's WFLA-TV after 27 years as an anchor.
In short, the station made him an offer he could refuse -- fewer hours and far less pay, according to a
story
by
Tampa Bay Tribune
TV critic Walt Belcher.
Ratliff, 60, joined WFLA-TV in 1982, shortly after leaving
PM
that same year.
"It's been a great ride, but the economy did me in," he says.
WFLA news director Don North told the
Tribune
, "We really wanted him to stay. But the news business is changing at an unprecedented pace, and in this tough economy we've had to make some difficult decisions.
WFLA carries NBC programming and WFAA is an ABC affiliate. Ironically, though, both are Channel 8s.
Ratliff and Gibbons can be seen fleetingly as
PM
co-hosts in a
vintage WFAA sales video
recently posted on unclebarky.com.