Sports anchor/reporter Derek Castillo leaving NBC5's playing field
04/03/08 04:25 PM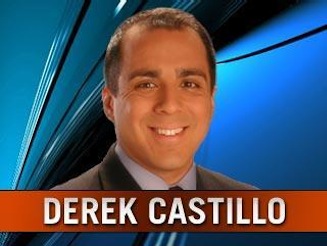 By ED BARK
NBC5's sports department at least temporarily could shrink to Newy Scruggs alone after Derek Castillo's scheduled departure at the end of June.
"I just couldn't do another contract working the weekends," Castillo said in a telephone interview Thursday. "I owe it to my wife and (eight-year-old) son now to be there more for them. Having a child really changes things."
Castillo joined NBC5 in July 2001 from WCAU-TV in Philadelphia. He became best known in D-FW for his live "Big Game Friday Night" reports from various area high school football fields. In 2005, he won a Lone Star Emmy award as the market's top sports anchor despite working the less prominent weekend shift.
Castillo said he's leaving NBC5 on good terms and hopes to remain in broadcasting because "my heart's still in this business." He grew up in Austin and graduated from the University of Texas in 1992 with a bachelor's degree in journalism.
"Ideally we'd like to get back there," he said. "It's pretty ballsy, because I don't have anything else going on right now."
Cost-cutting and downsizing are ever-present facts of life in both broadcast and print journalism. Castillo said he has no idea whether NBC5 will replace him with another full-time sports staffer, a freelancer or no one at all.
"I would hope they would hire someone," he said. "But who really knows nowadays?"
Castillo joined NBC5 after John Rhadigan moved to Fox Sports Southwest, where he remains a prominent anchor. Note to FSS: Castillo also would fit you like a glove.