The Uncle Barky Show wraps its fourth episode, announces high voltage guests for May
04/14/08 06:24 AM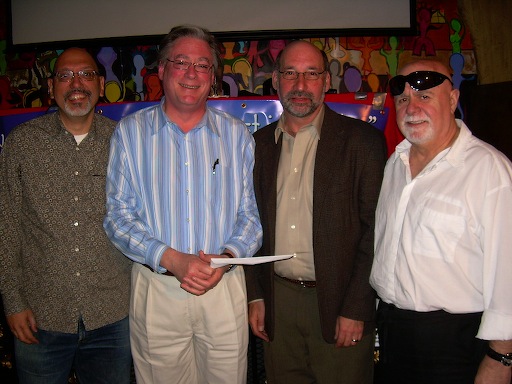 Another episode of The Uncle Barky Show is in the books, and Legal Aid of Northwest Texas is the latest recipient of a $500 contribution from our host restaurant, Stratos Greek Taverna. Guests were Manny Mendoza (left) and Mark Birnbaum (third from right), makers of the just-completed documentary Stop the Presses: The American Newspaper In Peril. Also pictured: Legal Aid director of development Sam Prince and Stratos proprietor Nick Rizos (right). Photo: Ed Bark
By ED BARK
Thanks to all who attended Saturday's fourth episode of The Uncle Barky Show. We had our biggest crowd yet for filmmakers Mark Birnbaum and Manny Mendoza, whose documentary
Stop the Presses: The American Newspaper In Peril
premiered earlier this month at the Dallas AFI film festival.
Another $500 was contributed by our host, Stratos Greek Taverna, to the guests' designated charity, Legal Aid of Northwest Texas. That makes a total of $2,500 to date.
Interesting tidbit during our interview: Walter Cronkite was among the more than 100 interviewees for
Stop the Presses
, but didn't make the 80-minute film's final cut. The CBS News legend, now 91, was having "a bad day" during filming, Birnbaum explained. But he'll be a "DVD Extra," Mendoza said.
Onward. Our final show of the spring, on May 17th, 4 p.m. at Stratos, will find your host trying to get a word in opposite WFAA8 sports anchor
Dale Hansen
and weatherman
Pete Delkus
, also known for their back-and-forth banter on D-FW's No. 1 rated early evening and 10 p.m. newscasts. So mark your calendars and be sure to arrive early for this sure-to-be-packed free event.
P.S.
Unclebarky.com also is welcoming a new advertiser, Just DVD It! Check it out.