This just in: Anchorwoman is out
08/23/07 04:21 PM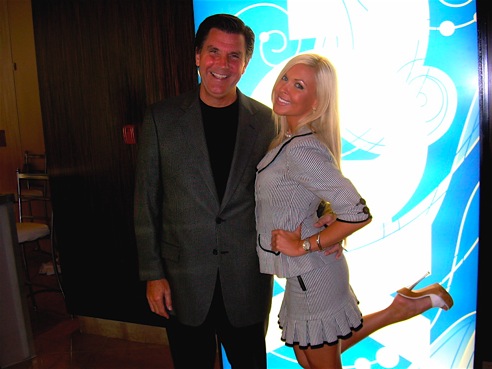 In happier times: KYTX president/GM Phil Hurley and Lauren Jones.
Photo: Ed Bark
By ED BARK
Fox has sacked
Anchorwoman
after Wednesday's back-to-back premiere episodes ran fifth nationally among advertiser-coveted 18-to-49-year-olds.
Effective immediately, its replacement will be reruns of the Brad Garrett sitcom
'Til Death
.
Anchorwoman
actually won its time slot in D-FW in the 18-to-49 demo while running third in total homes. Three more episodes had been scheduled, but they'll now have to wait for a DVD set if there is one.
Set at KYTX-TV in Tyler, Texas, the reality series starred model and former wrestling vixen Lauren Jones, who was brought in to anchor the CBS station's 5 p.m. newscast after a crash course and no previous experience in journalism.
KYTX president and general manager Phil Hurley, who was at a grand jury hearing for much of Thursday, said he didn't get the news until late in the day.
"I talked to (executive producer) Brian Gadinsky, and he's pretty down," Hurley said in a telephone interview with unclebarky.com. "I feel for him because he put a lot of effort into it. It probably has to do with Fox running so strong with 18-to-49-year-olds, and they don't want to upset those numbers."
Otherwise, Hurley said he wasn't particularly upset.
"Betrayed? Nah," he said. "We've all been in this game a long time. Shows get canceled all the time. But coming from a funny standpoint, I'm glad I've got my day job here."
KYTX had a viewing party at the station Wednesday night, with only Jones and cameraman Wilton Johnson missing. They were at a premiere party in Los Angeles that same night. But Dallas-based Fox4 was in Tyler to cover the party, with reporter Jeff Crilley getting the assignment.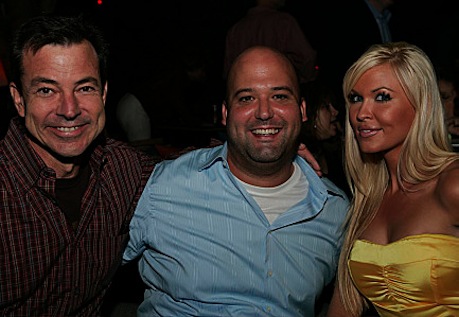 Producer Gadinsky, cameraman Johnson and star Jones at L.A. gala.
"I'm gonna guess this is gonna devastate her," Hurley said of Jones, who has said she wants to make a career change and become a long-term news anchor.
KYTX anchor Annalisa Petralia was edited into a semi-shrewish poser during the opening -- and closing -- hour of
Anchorwoman
. Meanwhile, Jones was portrayed as likable and eager to please after her initially ditzy approach.
"Everybody sat there at our party, and Annalisa laughed right along with everybody," Hurley said. "I was pretty proud of her."
Hurley said that KYTX would report the abrupt cancelation of
Anchorwoman
on its Thursday night newscasts.
"You've got to share the disappointing news with the good news," Hurley said.
He also planned to meet with the station's staff "to make sure that everyone knows that it happened." That would include KYTX's Stormy the Weather Dog, who took an immediate disliking to Jones during the show's premiere. In later comments to unclebarky.com, Jones not so affectionately called Stormy a "butt-head."
Anchorwoman
's remaining three half-hour episodes will end up on the Fox.com Web site, senior vice president of corporate communications Scott Grogin confirmed Thursday evening.
The series received heavy publicity nationally before its premiere, including three stories on
Good Morning America
. But America at large yawned, prompting Fox to lower the guillotine.