Sams in the running for vacant CBS11 morning anchor spot
03/01/07 01:02 PM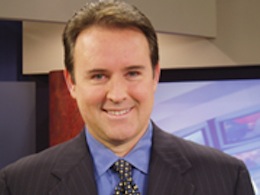 By ED BARK
Hoping to jump-start its early morning news program, CBS11 had an audition scheduled Thursday with former Belo8 anchor Scott Sams.
No one at CBS11 would talk on the record, but sources say the station is seriously considering Sams as a replacement for Doug Dunbar, who will begin anchoring the 10 p.m. newscasts on Monday. Later Thursday, a CBS11 spokesperson confirmed that Sams is "one of the candidates" for the morning vacancy.
Sams currently is anchoring at Denison,TX-based KTEN-TV, an NBC affiliate. He joined the station last spring.
There's still bad blood between Sams and Belo8, where he worked for almost 20 years before the station decided to go "in a different direction" in September, 2004. At the time Sams had been anchoring the ABC station's morning show. He later filed a discrimination suit against Belo8, claiming he had been dropped due to his age, religion, gender and race. An arbitrator awarded Sams a partial judgment in January, with both sides claiming victory.
Sams fed the gossip mills during his last days at Belo8 by reportedly calling traffic reporter Alexa Conomos a "Greek bitch" off-camera He otherwise is a self-proclaimed devout Christian who before joining KTEN expressed interest in hosting a Christian radio talk show.
CBS11 badly needs a boost in the early mornings after finishing a distant last in the February sweeps in both total homes and with 25-to-54-year-olds, the key advertiser target for news programming.