Bonnie Behrend's back in play (she looks a bit different now)
08/24/07 02:46 PM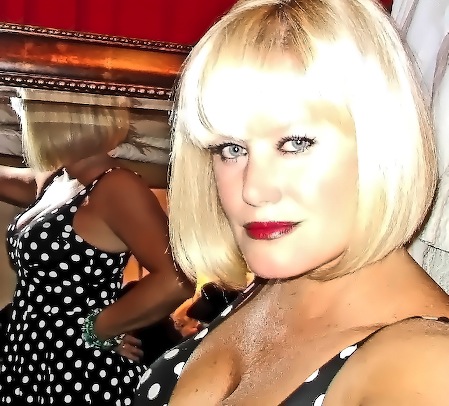 Former WFAA-TV reporter Bonnie Behrend was asked if she could send a current picture of herself. This is the "sassy" one she sent.
By ED BARK
Thursday's piece on Bill O'Reilly/Tracy Rowlett/Marty Haag is getting quite a bit of reaction. If you haven't read it yet, it's best to
go here
first.
One of Haag's former reporters and defenders,
Bonnie Behrend
, responded by sending a decidedly colorful email and picture that she freely gave permission to post.
Behrend, who worked at Dallas' WFAA-TV (Channel 8) from 1986-88, became famous -- or infamous -- for an "Inexpensive Vacations" report from Cancun. Walking along the beach, she wore a white, one-piece bathing suit that had tongues wagging/hanging for weeks. A video
snippet
is posted on her Web site.
Now living in Aspen, Colo., Behrend is unstinting in her admiration for the late Haag, who died in January 2004 and won a George Foster Peabody Award for career achievement. She's also unabashedly descriptive in her comments. Here's Behrend's unsolicited take, to which there likely will be some dissenters:
"I just sent a note to O'Reilly telling him to leave Marty Haag alone.
"Marty spotted, recruited and launched the careers of many leggy, beautiful, smart, blonde women who also had brains. I know it's a little hard for some to see past the visuals, but that's OK. I, for one, have always liked being underestimated.
"Besides, last time I checked, it is a visual business, isn't it? And it usually helps to keep me employed, and my dance card full (except when I'm blacklisted for a righteous lawsuit against a major, disintegrating broadcast network and the lying punks, perverts, liars and cheats who were signing my contracts and sitting next to me on the set).
"While looks may bring people to the table and the TV show I'm working on, I also have a Master's Degree in journalism and am a Kiplinger Fellow, having earned the higher degree from The Ohio State University in the Kiplinger Public Affairs Reporting program. I spent the first six years in television as a producer and writer, making on-camera people look and sound good.
"Marty saw me at a RTNDA conference, hired me because, as he later admitted before he died, I was the 'hottest thing he'd ever seen.' He later also found out I could write, among other things. I had no reporting experience and learned the hard way in that tough (WFAA) newsroom as Contact 8 Consumer Reporter, where I took names of fraudulent business operators and no prisoners, and it worked. We won a few awards.
"He also put me in a bathing suit and that worked, too. We won a few ratings points. He apologized to me right before he died for putting me in a bathing suit, saying he believed it made my 'serious' journalism efforts more difficult. I, of course, forgave him then and in the '80s when he did it, I thought it was brilliant.
Marty Haag was ahead of his time in programming smart, strong, good lookin' blondes in TV news. All O'Reilly has to do is ask his boss. Roger Ailes obviously understands."
Bonnie Behrend