"Blackjack, baby." Cuban's 21-score should keep his hand in
09/25/07 09:50 PM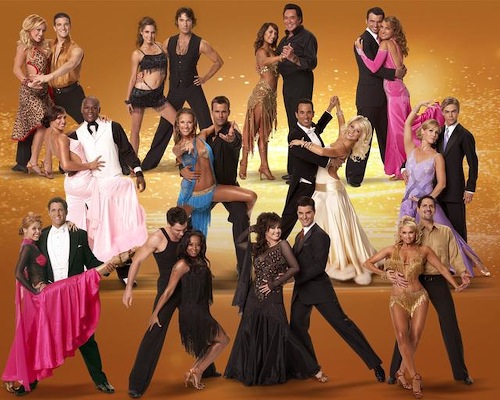 Who's goin' home? Probably model Josie Maran (top, 2nd from left).
By ED BARK
Tonight's ensemble is salmon-colored satin jammies, a velour cranberry robe and pointy-toed taupe slippers with sprinkes on top. That puts Uncle Barky in the perfect mood and attire to tickle the keyboards with another Mark Cuban-themed
Dancing with the Stars
summation.
The brash Dallas Mavs owner and stunningly cute pro partner Kym Johnson fox trotted to "King of the Road" Tuesday night during the male half of the competition. A serviceable 21 score put them comfortably in the middle of the pack, with Indy 500 champ Helio Castroneves in the pole position with a score of 25. Cheetah Girl Sabrina Bryan, who danced the night before, leads the whole bunch of 'em with 26 points.
Unaccustomedly duded up in a brown suit with scattered tan patches, a patterned light brown tie and white dress shirt, Cuban mouthed the lyrics to Roger Miller's old chestnut while occasionally flashing a little tongue. Judge Carrie Ann Inaba didn't care to see that.
She praised his overall showmanship, but "your tongue was dancing a bit more than anything else. Keep it in the mouth."
Cuban lapped that one up, laughing hard rather than scowling as though he'd just seen Dirk Nowitzki hammered to the floor without a whistle. Bet any or all of your prized possessions that you'll see a replay of this magic moment on Wednesday night's super-padded one-hour results show.
Nutzy judge Bruno Tonioli dubbed Cuban a "bouncing bionic billionaire," referring to his June 29th hip replacement surgery. In a preceding taped segment, Cuban showed off his scar and said he had a rod running up part of his leg.
"I don't like it when you hold your rod like that," partner Kym worried after he seemed to be in pain during a Dallas practice session.
"I'll be OK," Cuban assured her. "I hold my rod all the time." Now that's being quick on your feet. Bravo.
He proved to be more Fred Astaire than Fred Flintstone, even executing a heel click at the fox trot's tail end.
"It wasn't exactly a dance floor disaster. It wasn't exactly ballroom bliss. It was somewhere in between," opined old school Len Goodman, most finicky of the three judges.
Cuban danced second to last among the six male contestants, with creaky Wayne Newton closing the 90-minute live show. Mr. Las Vegas moved like chunky soup through a sippin' straw during his approximation of the cha cha cha. The judges generously gave him a 19 before partner Cheryl Burke proclaimed, "I think Wayne might be the best partner I've had."
She told this to former partner and second edition winner Drew Lachey, who's co-hosting with Tom Bergeron while Samantha Harris is on maternity leave. Burke also teamed with Emmitt Smith in his
Dancing with the Stars
championship run. Maybe they didn't deserve her?
Extra, Access Hollywood
and
Entertainment Tonight
are gonna be all over this.
Cuban, lumped among five dancers with scores of 21, likely will survive to do the mambo next week to an old Whitney Houston song. The odds-on favorite to get bounced Wednesday night is little known model Josie Maran, whose 16 score puts her in the basement.
"You looked like a beautiful sailing ship stranded on a sandbank," Tonioli told her.
Maybe he'll eventually have something to say about Cuban's rod.