Survivor: Cuban's fox trot nearly fed to wolves
09/26/07 10:18 PM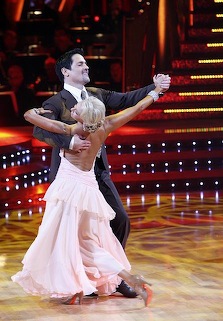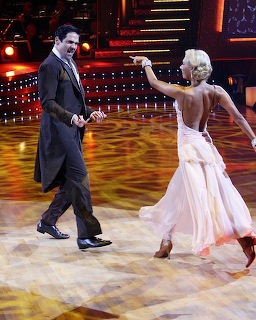 By ED BARK
Dance fever one night, cold sweats the next.
Mark Cuban's
Dancing with the Stars
season nearly ended as soon as it began. The Dallas Mavericks owner scraped bottom Wednesday night, emerging as one of opening week's two lowest judge/viewer scorers before model Josie Maran took the fall.
Cuban and picturesque partner Kym Johnson had stood stern-faced after host Tom Bergeron let the agony of de-feet linger through a commercial break. He'll now get at least one return visit, with a mambo on tap this Monday.
"It's motivation," Cuban said in a late night email. "We are now the underdog and we need to rally Dallas and the state of Texas behind us for next week. We are going to work harder and have even more fun."
He later
blogged more expansively
, telling readers of his web site that the near-eviction alternately made him happy, mad and upset.
"Had I not worked hard enough? Did people really not care enough about me to vote for me?" Cuban wrote. "It's a weird, humbling experience. But it's one I signed up for. I have to take the bad with the good."
Cuban's fox trot to "King of the Road" received a middle-of-the-pack score of 21 from the judges during Tuesday's dance-off among the show's six male contestants. That was good enough to outpoint Vegas oldster Wayne Newton (19 points) and boxer Floyd Mayweather (18). But their "fan bases" proved stronger than Cuban's in the viewer voting, which counts for half the final score.
It left Cuban dangling as the overall lowest male achiever, with the little-known Maran's score of 16 from the judges finally punching her dance card instead of his. She joins Trista Rehn, Kenny Mayne, Tucker Carlson and Paulina Porzikova in the show's first to go club.
Cuban's early bragging on Monday's opening show -- "I am a lean, mean dancing machine, and you better know it" -- may have put some viewers off their feed. Nor was it a great idea to brandish his hip replacement scar and a slice of his backside during a taped segment Tuesday.
He's also in against two sculpted young bucks in soap star Cameron Mathison and model Albert Reed. They each got a 21 score, too, but Cuban, 49, can't hope to match their sex appeal and willingness to flaunt it. In taped studio audience comments Wednesday night, no one was moved to say anything about Cuban. But one woman said of Mathison, "I wanted to skinny dip in his eyes."
Cuban at least avoided his Mavericks' fate. Earlier this year, they became the first team to be eliminated by a No. 8 seed in the first round of the NBA's expanded seven-game playoff format. He's now the odds-on favorite to take the gas next week. Somewhere Don Nelson is broadly smiling. Maybe that's motivation, too.