CBS11 excels in breaking coverage of Cowboys' "practice bubble" collapse
05/02/09 04:43 PM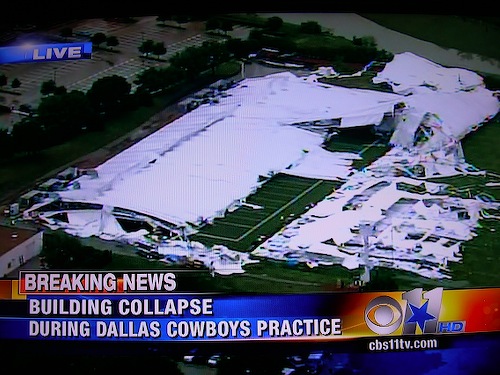 CBS11 dominated the early television coverage of Saturday afternoon's Cowboys practice field disaster. Photos: Ed Bark
By ED BARK
CBS11 excelled in its breaking coverage Saturday afternoon of the Dallas Cowboys' rookie camp disaster, and virtually had the story to itself in the first half-hour.
Leading the station's vivid on-the-scene reporting were photojournalist Bret Kelly and sports reporter Steve Dennis. Kelly was inside the team's air-supported practice bubble when it collapsed during inclement weather around 3:30 p.m. His jarring pictures were quickly put into play while Fox4, NBC5 and WFAA8 stayed with scheduled programming.
"It looks like one big, crumpled kite with aluminum," said CBS11anchor Nerissa Knight, who helmed the coverage back at the station's Fort Worth studios with meteorologist Larry Mowry.
CBS11 cut away from its network's coverage of the PGA's Quail Hollow Championship to bring North Texas viewers the first news of the tragedy, in which several people reportedly were seriously injured. Practice was in progress when the structure collapsed.
Fox4, NBC5 and WFAA8 all stuck with regularly scheduled programming in the early going. Fox4 had the Mets-Phillies baseball game, NBC5 stayed with preliminary Kentucky Derby coverage and WFAA8 aired a St. Jude's Hospital infomercial followed by the ABC reality competition
Wipeout
.
WFAA8 was woefully slow off the mark, relying on still pictures from viewers while CBS11 had both live helicopter shots and "raw video" from inside the practice facility after it collapsed. Even "The 33" broke in with a brief mention of the tragedy before WFAA8 finally gathered itself.
Cowboys owner Jerry Jones, attending the Kentucky Derby, reacted to the news back at Valley Ranch in a live interview with NBC's Bob Costas.
"They did not get good warning there, and the structure did collapse," Jones said. CBS11 meteorologist Mowry noted that the National Weather Service in fact had issued a severe weather warning Saturday afternoon.
CBS11's stellar coverage came just a day after the station laid off several employees, including meteorologist Kristine Kahanek and assistant news director Sarah Garza. The station's coverage obviously didn't suffer Saturday. CBS11 reacted quickly and authoritatively, dominating its competitors and owning the story when it counted the most. Fox4 had the second-best coverage, but it geared up only after CBS11 had firmly taken charge.
Here are some other CBS11 pictures from the scene: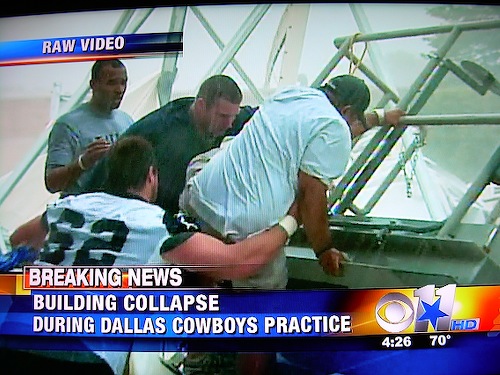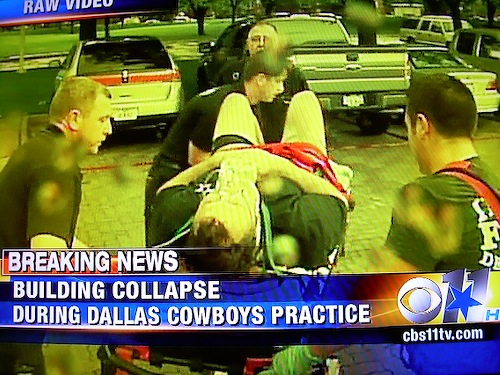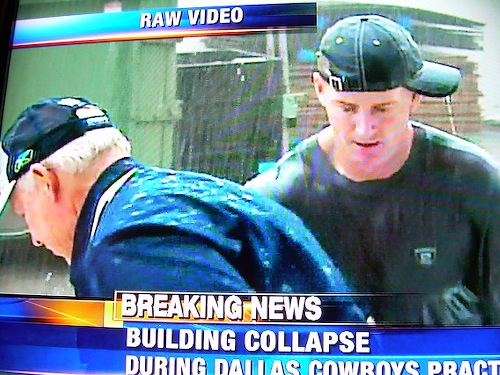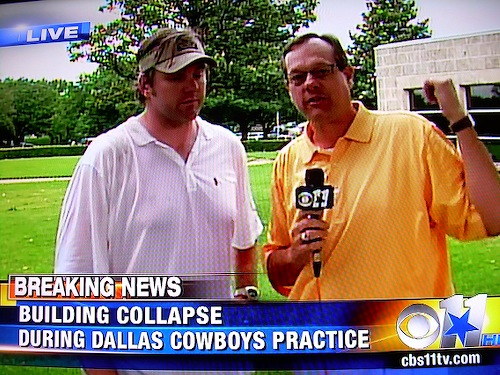 On the scene from the start: CBS11's Bret Kelly and Steve Dennis.