Why you should hate Tim Rogers (or D Magazine if you prefer)
08/31/07 08:44 AM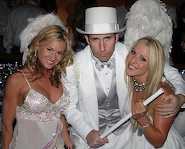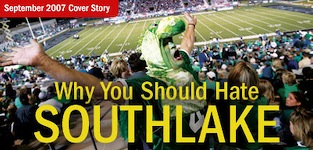 Tim Rogers at the office (he'll hate that the pic's so small) and a now notorious D Magazine cover story that's generated lotsa TV pub.
By ED BARK
Actually the above baby blue headline isn't really true. Some people say that self-aggrandizing
D Magazine
executive editor Tim Rogers is a weasel. But in fact he's usually no worse than a wisecracking gecko.
Oh, but we kid Tim in the interests of possibly spiking traffic on unclebarky.com. That's hardly a novel ploy, but Tim and
D
reeled in a big catch with an "irony"-spiked September cover story headlined, "Why You Should Hate Southlake." CBS11 and Belo8 jumped on board Wednesday with news stories on the resultant controversy. Then Tim hit the big time with a Thursday night appearance on Ch. 52's
The Gordon Keith Show
.
Of course he blogged live about the latter on
D
's
FrontBurner
. Few Tim activities go unchronicled if he has anything to say about it. And of course, he almost always does.
D
's Southlake article, by Paul Kix, actually was very football-y and relatively benign. The community's Southlake Carroll Dragons juggernaut has dominated the state high school ranks for several years running. Kix mostly wrote about that while also observing that "they're good at everything in Southlake. If you've never been, there's something a little
Pleasantville
about it. The streets are cleaner than your streets, the downtown more vibrant . . ." -- and so on.
So what's to hate? Well, Tim and
D
were being "ironic" in the interests of commerce.
"We're trying to get people to read the article," he told CBS11's Jay Gormley. Now there's a self-incriminating sound bite you can take to the bank.
Later, on
Gordon Keith
, Tim noted that most of the magazine's readers are women who weren't about to throw down coin for a story about football. But maybe they'd be curious about "Why You Should Hate Southlake." Even if in fact you really shouldn't. Oh, the irony.
It's much the same problem that
Friday Night Lights
faces on NBC. Most women simply weren't watching during the show's first season. Yuck, football. So as entertainment president Ben Silverman told unclebarky.com, the "new attack plan" for the acclaimed series' second season calls for "no more people in helmets" during promotional spots.
But back to Tim, because this is really all about him. He definitely has a knack for looking bad on TV, as he did during Belo8 investigator Byron Harris' rather ridiculous February "sweeps" expose of
D
's annual "Best Doctors" issue.
The ringwise Belo8 gumshoe had little difficulty, though, in making Tim look like an Enron executive. Harris cannily led his lamb to the slaughter and then edited his piece accordingly. Classic shot: Tim sipping nervously in closeup from his
D
coffee mug.
The thing about Tim, though, is that he dearly loves to savor his Timness under just about any circumstances. So this latest round of TV appearances only adds to his already bulging portfolio of advertisements for himself. He even happily brandished his bald spot on Keith's show. Every last inch of Tim will be self-celebrated in due time.
Oh, but it's all in good fun. In reality, no one should hate Tim Rogers. Every big city needs a few dedicated followers of their own lives and times, and Tim's a home run hitter in that league. All we're really doing is singing his praises --
D
-style. Ain't irony a gas? M-m-m-mwah.