Low profile: NBC5 quietly goes to high-def
09/10/07 06:45 AM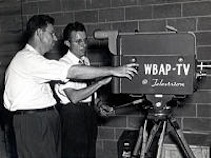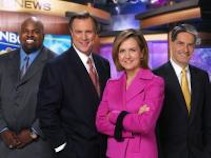 By ED BARK
And now there are two. Absent a promotional campaign or even a notification date, NBC5 slipped its first high-definition newscast onto the air at 10 a.m. Friday (Sept. 7). But why so secretive?
Unlike Belo8, in HD since Feb. 2, and CBS11, which will switch over at 4 p.m. on Sept. 24, NBC5 spared its viewers any fanfare. Station management declined to answer previous inquiries as to when in September the station would go to HD. NBC5 now has an on-air promo touting "the new NBC5 news in HD. Where you matter."
Kinks were still evident on Sunday's 5 p.m. local newscast, which served as a warmup for NBC5's locally produced buildup to the Dallas Cowboys-New York Giants game at Texas Stadium. In several instances, audio simply cut off as the picture briefly went to black. Other than sharper images, the station's new look so far boils down to a shimmering, but otherwise barren sky blue backdrop for news anchors. But the new Weather Center looks more visually ambitious.
"It's complex. Everything you used to have needs to be upgraded," NBC5 president and general manager Tom O'Brien said in an Aug. 9 interview with unclebarky.com.
O'Neil did not want to talk about the station's significantly heavier use of computers and robotically-controlled cameras, which reportedly will result in double-digit layoffs.
"I don't think that's germane to the story," O'Brien said. "We're implementing the latest technology in our control room . . . We're trying to put more money into content and news gathering."
Fox4 now is the only major TV news provider in D-FW without any plans to make the HD shift in time for the new season.
"It's in the works, but no date yet," says a station spokesman.
Fox4 instead reverted to the not-so-recent past during halftimes of its two NFL game telecasts Sunday. The station inadvertently cued up a pitch for 2006 Cowboys season ticket sales, with Drew Bledsoe shown in action.
Later Sunday on NBC5, the night clearly belonged to Cowboys QB Tony Romo, who lit up the Giants with four touchdown passes while running for another. Analyst John Madden gushed over him as though he were Brett Favre. Not that there wasn't ample reason.
During the network pre-game show, host Bob Costas introduced ace play-by-play man Al Michaels as "Alfalfa" Michaels. He reciprocated by calling Costas "Rapid Roberto."
That's a little odd. But Costas, 55, and Michaels, 62, both run the risk of looking like Wink Martindale if they don't start easing up on the hair dye. In contrast, pre-game co-host Keith Olbermann, seven years Costas' junior, has let himself go notably gray while his colleagues try to do a Dorian Gray.
In HD or otherwise, it seems time to age a little more manfully.